Former Premier League player Robbie Earle thinks one member of the Spurs team could be in danger of losing his spot in the team after his display against Leicester.
Serge Aurier played a major part in the visitors' opening goal on the weekend, as his clumsy challenge on Wesley Fofana presented Jamie Vardy with the chance to score from the spot, which he duly did.
And speaking on the latest edition of The 2 Robbies Podcast, Earle believed that a mistake like that could be a quick way for the Ivorian to find his way out of the team altogether:
"I don't know if he doesn't believe in the players, Serge Aurier is turning back into Serge Aurier.  I always remember Jose talking to me once in a conversation with a few people and he talked about Glen Johnson who was right back for Chelsea and he said, 'I love Glen, great energy, but you know in a big game, I can't trust him.' And I just wonder with Serge Aurier, with Jose once he loses your trust, I'm not sure there's too many ways back."
Do you think Serge Aurier deserves a new deal?
No, he's not good enough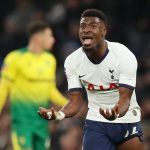 Yes, he's a good player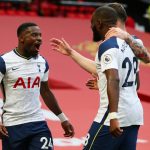 TIF Thoughts on Serge Aurier…
It may be harsh to hand out criticism like that after one mistake, even if it was a pretty significant one. Aurier has been one of Spurs' better players so far this season, coming in third behind Harry Kane and Son Heung-min in the WhoScored rating with an average score of 7.14.
And whilst he does have Matt Doherty breathing down his neck in terms of competition with a rating of 7.06, I'd wait to see if a pattern began to emerge when it comes to Aurier's performances before instantly calling for things to change at Spurs.
Players make mistakes, and in Aurier's defence if it was one yard to the left then it's just a free-kick and we might not be having this discussion. So once is fine, but if he makes another one against Wolves at the weekend, then you can start to think about making a change.