Newcastle United fans on Twitter have been sharing their thoughts on the latest footage of Toon manager Steve Bruce. 
This comes after Newcastle news Twitter account @GallowgateShots shared a post on their page that contained the footage of Bruce in his latest press conference ahead of the Tyneside club's Premier League clash with Liverpool.
The footage shows Newcastle journalist Lee Ryder asking a question to Bruce on whether or not he can understand why the Toon fans would be frustrated that the club's main aim now is to avoid relegation this season.
In response, Bruce said he understands the fans' frustrations but said that's where the club are at the moment, in a rather sharp and annoyed tone of voice.
The footage also showed Bruce shaking his head in annoyance after answering the question from Ryder.
This post then gathered a lot of replies from Newcastle fans who were not shy in airing their thoughts on this footage.
So, what did these Toon fans have to say about this footage of Steve Bruce?
"Grown man acting like a spoilt petulant teenager ,,, I'm embarrassed for him (cringe) #NUFC"
"He looks completely disinterested, it's a disgrace, he has to go #BRUCEOUT"
"Get that bloke out of our club man."
"He really is out of his depth as a football manager"
"Looks like a man who knows his days are numbered!!"
"Doesn't like being held to account" 
Looking at the replies to this post, it appears that these Newcastle fans are happy with Bruce at the moment or his response to Ryder's question.
Given how the club have failed to pick up a win in their three previous league fixtures, conceding eight goals in the process, it's understandable why these fans aren't happy at the moment, especially with Bruce's main ambition of just keeping the club in the Premier League.
Do you think Newcastle will avoid relegation this season?
Yes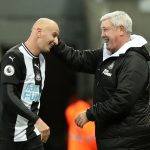 No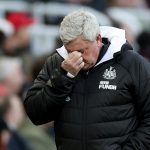 In our view, if Bruce gave the team some higher ambitions and targets like finishing in the top half of the table, this would give the players something to work hard towards instead of looking backwards and just focusing on staying up.