Supporters of Newcastle United have fumed after some comments from Steve Bruce were shared on Twitter by The Chronicle's Lee Ryder.
During the latest round of Premier League fixtures, the Toon suffered a 2-0 defeat away from home at the hands of Pep Guardiola's Manchester City (per Transfermarkt).
The defeat means that Newcastle have won five, drawn three and lost six of their opening 14 league games, leaving them 13th in the top flight (per BBC).
Following the defeat to Manchester City, Bruce said: "My remit is to keep Newcastle in the Premier League."
Those comments were relayed to Newcastle fans on Twitter by Ryder and they had lots of supporters fuming.
So, what did these Newcastle fans have to say regarding Steve Bruce's comments?
"Rafa established us back in the premier league, had a good base to build off to push into the top 10. Bruce has had more money, and we've gone 10 steps backwards. This guy is delusional. Get him out of the club. Joker."
Credit: @DanielMein
"Absolutely embarrassing. Joelinton comes out and says that we're aiming for top 7 and Bruce says we're in a relegation battle. Just shows the players are too good for Bruce"
Credit: @taylor__1998
According to Bruce's targets, the Toon are on schedule as they currently sit on 18 points in the Premier League, which is seven points above the relegation zone heading into the latest round of fixtures.
Is Steve Bruce good enough for Newcastle?
No, he needs to go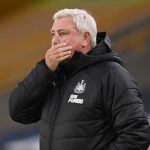 Yes, he's good enough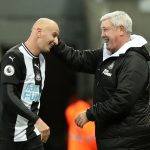 "Next press conference you need to ask him, is that how you sold the club to Wilson etc "our aim for next season is to stay in the league". He seems to have an arrogance about him that won't accept he is to blame, and turns it onto the fans. #nufc"
Credit: @ClarkCoulson
"WHEN it goes badly Wrong for us under this imbecile the local media (allegedly the voice of the fans) needs to take its share of the blame. You have had ample opportunity to call this proven buffoon out on his lies but have take the easier option of blaming the fans"
Credit: @markhardy9999
Bruce has now been situated at St. James' Park for over a year and a half following the 59-year-old manager's short stint with Sheffield Wednesday (per Transfermarkt).
In that time, he has overseen 63 Toon matches, of those, 22 have been won, 16 have been drawn and 25 have been lost – leaving him with a weak points-per-game total of 1.3.
"There's the motivation and direction in them 10 words right there. Nothing else to offer for the rest of the season nothing like trying to push for top 10 no ambition what so ever!!"
Credit: @blaster_jam
"Horrible horrible negative man, Needs out ASAP!! There are plenty experienced managers out there that are out of a job that are motivated to reach higher than the bottom half , even if we don't the mentality is there! #BruceOut lovely bloke but can't stand him as manager"
Credit: @kyleken19720958
"This actually angers me. We haven't came lower than 13th since returning to the PL. We have spent a competitive amount of money and finally got a proven PL striker. Why do we have no ambition/desire to progress?"
"Reinforces that Ashley is the root of the problem. @PIF_en please save us from much more of this."
"I think someone might be angling for a pay off."
As can be seen in these responses from Newcastle supporters, many of them were keen to see the English manager leave the club after his comments emerged following the defeat to Manchester City.