Many Newcastle United fans have been responding to a tweet that was recently posted by Toon-focused Twitter account @ChronicleNUFC which relayed the news that Toon goalkeeper Martin Dubravka is almost fully fit. 
This comes after the Toon's head of goalkeeping, Simon Smith, recently posted a tweet revealing that the Slovak shot-stopper, who was a Premier League ever-present for the north-east club in both the 2018/19 season and the 2019/20 season, is 'nearly back to full goalkeeping fitness' having been sidelined since August due to a heel bone injury. 
So, how have these Newcastle United fans reacted to this update on Dubravka?
Martin Dubravka 'nearly back to full goalkeeping fitness' https://t.co/5oSuBVbX8S pic.twitter.com/1uoOPNqxeh

— The Chronicle (@ChronicleNUFC) December 18, 2020
It may be fair to say that Dubravka has been a very important player for the Toon since joining the club from Sparta Prague, as in addition to featuring in every Premier League game for the north-east club in the last two seasons, he was named as Newcastle United's Player of the Year for the 2019/20 campaign. 
With that in mind, it may be understandable why some Newcastle fans reacted positively to this news and shared some excitement about the prospect of seeing Dubravka back in action soon.
WE'RE BACK https://t.co/cXDYEgcwpt pic.twitter.com/YcQjte293M

— david aldridge stan account (@sam_barkerrr) December 18, 2020
Thank god! Darlow has done an impressive job but I'm ready for Dubravka to be back. #nufc https://t.co/EDaDXcVaNr

— Jessica Russell (@jesscakatie) December 18, 2020
It's good to see you https://t.co/K7nBjHY9To

— Kaung Xan (@kaungxan30) December 19, 2020
Meanwhile, some Newcastle fans raved about their club's depth at the goalkeeper position in response to this tweet. 
So fortunate to have 2 amazing keepers!

— ?Ms L.H. (@exspygirl) December 18, 2020
We have a big but nice issue.. two great goalkeepers but there is simply no way you can drop Darlow, as he has been immense and brilliant.. Right up there to be England's No1..!

— SilverBack (@SilverWeb17) December 18, 2020
He's in for a fight to be number 1 again…. 2 good keepers at the toon.

— The wee club in the North (@Margeandrews20) December 18, 2020
We've probably, collectively the best goalkeepers in the PL.

— AnotherDevilsAdvocate (@AnotherDevils) December 18, 2020
Which goalkeeper is better?
Martin Dubravka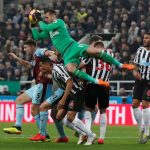 Karl Darlow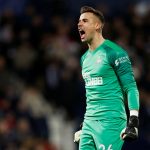 So, from these tweets, it's clear that plenty of Toon supporters rate Dubravka highly, though it appears as though some feel that fellow Newcastle goalkeeper Karl Darlow is not going to make it easy for him to walk straight back into the starting XI.