Former Premier League referee Mark Halsey has claimed that VAR got a major decision "wrong" in Newcastle United's draw with Fulham.
During the latest round of top-flight fixtures, the Toon were held to a draw against Scott Parker's Cottagers at St. James' Park (per BBC).
In the clash, the visitors went 1-0 up through a Matt Ritchie own goal, however, Newcastle found their way back into the game through a Callum Wilson penalty.
For bringing down the striker, Fulham defender Joachim Andersen was shown a red card after Graham Scott viewed the incident on the pitchside monitor.
Speaking exclusively to This is Futbol, Halsey said: "Remember, Graham Scott had already cautioned him so he wasn't going to take any disciplinary action.
"Then, obviously, VAR get involved because once he gives the penalty, they say to him, 'Well, hey, you've made a clear and obvious error because you haven't sent him off for denial of a goalscoring opportunity.'
"Now, to me, it wasn't a clear and obvious error for the denial. Reason one because you've got to look at the likelihood of him gaining control of the ball, the direction of play – where Wilson was going – and where was the ball.
"Now, the ball was then nicked off to the left. Also, you've got to take into consideration the location and the number of defenders in that vicinity.
"Once that foul was committed, there were Fulham defenders in the vicinity and coming around, as you could see when he's gone down, the defender was coming around."
Did the officials make a mistake with this incident?
No, it was a penalty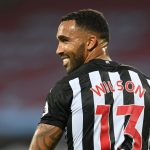 Yes, it was a bad decison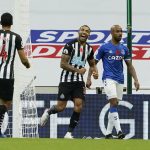 The moment proved to be pivotal during the remainder of the game as Wilson netted the penalty and that resulted in the spoils being shared between the two sides.
Following the match, the Cottagers' manager went as far as to claim that the Toon's English striker dived to win his side the spot-kick.
Parker also went on to criticise VAR and claim that officials are still "making incorrect decisions" and that he found that "puzzling".
Halsey continued: "For me, that didn't meet the criteria for denying an obvious goalscoring opportunity. So, I believe that VAR was wrong to have Graham look at that as the denial of a clear goalscoring opportunity.
"I think it was very, very messy but came to the right conclusion in the end because Andersen did deserve to be sent off but not for a straight red card.
"It should have been, in my opinion, a second yellow card and, for me, it wasn't a penalty. It should have been given outside the box."
The point for Steve Bruce's side has left them 12th in the top flight with 18 points after 13 games, meaning they have a comfortable points gap between themselves and the relegation zone (per BBC).