Everton journalist David Prentice believes that the club might be in a position to transition away from long-term right-back Seamus Coleman.
But that player might come from a rather unexpected source in the form of centre-back Ben Godfrey. The 22-year-old was only signed this summer by the Toffees but has made an instant impact at on Merseyside, making 13 appearances in all competitions.
Speaking on the Royal Blue podcast, Prentice claimed that, whilst he hasn't played there much during his time at Goodison Park, his time spent elsewhere and interchangeable skills mean that he could be the ideal replacement when it comes time to move on from 32-year-old Coleman.
He said: "I'm thinking more about Ben Godfrey, because he's been absolutely magnificent as an emergency left-back. And I know he's a centre back, and that's where he was signed for long term. But he has played emergency right-back for Norwich before and done very, very well there and told the manager he feels comfortable. And just the way that he's matured and that he's flourished, makes me think that he could be, you know, so unexpected long-term option to replace Seamus Coleman."
Does Ben Godfrey have a future at right-back for Everton?
Yes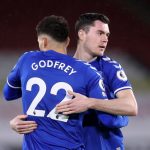 No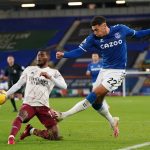 Predominantly a player that plays through the middle, either as a centre-back or defensive midfielder, that's surely a lot of faith being shown in the 22-year-old to make that sort of transition this early on in his career at Everton, and especially if it involves a change in position.
Of course, that's not to say it's impossible for him to do so, but it might be worth seeing what he can do for a stretch of games first before anointing him as the man in waiting. You don't, for instance, want to go into a transfer window assuming that he knows the role inside-out, then find out he can't do it and then spend the next few months being stuck with him there.
Coleman's contract isn't due to expire until the summer of 2022, so there's still some time to work it out between now and then, enough time to get him some more experience before finally making a decision on it.