Many Tottenham Hotspur fans have been talking about the latest update involving Harry Winks that recently emerged on social media.
Journalist Matt Law recently wrote an article for The Telegraph, providing an update about Winks' situation. The piece said that the Englishman is now set to speak to Daniel Levy about his future at the north London club.
Is Harry Winks good enough for Spurs?
Yes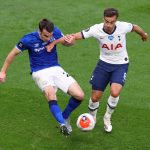 No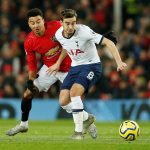 This update was relayed on Twitter by The Spurs Express recently. Many Spurs fans gave their opinions about the English midfielder and his future at the club.
What did Spurs fans make of this update about Harry Winks?
A shame Harry, I thought his attitude was better. Could see after NLD he was miserable and considering he's a big spurs fan I'm surprised. When he was breaking through into our team years ago he fought to get there and the players place he took didn't pout like he has.

— Ethan (@EthanCOYS) December 11, 2020
Winks is not good enough simple as, yes he's Spurs through and through but there's no room for sentiment. Plays well from time to time but always slows things down and Jose alluded to last night and without fail loses the ball in a dangerous position at least once per match

— Andy (@AndyTHFC204) December 11, 2020
Good guy, not good enough for the first team though if we want to challenge. If he wants to play, let him leave and bring back skipp. I could see him at West Brom or palace

— Danny (@dannk23) December 11, 2020
Go and be awesome somewhere else. You and alli can add up with the other good player Jose throw in the bin

— Ryan Squeak (@SqueakRyan) December 11, 2020
During Spurs' game against Royal Antwerp on Thursday, Winks was taken off by Jose Mourinho and the midfielder went straight down the tunnel. Mourinho later said that he told Winks to do so, as whenever the weather is cold, he prefers to have the players go into the dressing room (as per Football.london).
The update about Winks caught the attention of some other Spurs fans.
Honestly dont blame him needs to get regular game time

— Phelan (@jamiephelan93) December 11, 2020
30m get rid buy this guy pic.twitter.com/9vQ8VPmUpF

— Jasper (@thfcjasper) December 11, 2020
No room for sentiment, let him go. Never going to be good enough.

— Joe Santos (@jo3Sant0s) December 11, 2020
The Athletic has recently reported that Winks is frustrated about not playing as much as he would like under Mourinho and while he has some admirers in La Liga, the 'nature of the market' makes a move to Spain unlikely in the January transfer window.
He has made only four Premier League appearances this season and he is 'desperate to be involved' with the England national side in the European Championships in the summer. So a lot of things point towards the fact that Winks is considering his future and since he hasn't been a regular in the league, a move away from Spurs makes sense for him.