Former Premier League referee Mark Halsey has been discussing Burnley, Sean Dyche and their recent 5-0 defeat to Manchester City. 
Speaking exclusively to This Is Futbol, Halsey was asked whether or not Dyche or Burnley could have any grievances with the VAR because Manchester City's second goal of the game came from a throw-in that was apparently taken from a position that it shouldn't have been taken.
In response, Halsey had this to say on the matter.
He said: "You've got every sympathy for Sean on that incident. [With] that incident there, VAR cannot get involved [in] those situations.
"Remember, it's just goals, red cards, penalties and mistaken identity, that's where they can get involved in so that's the IFAB protocol. So, no, VAR cannot get involved in that situation it's down to the match referee.
"Not the assistant [referee], because the assistant has moved too far down the line and he's got to be in line with the second most rear defender.
"It was the referee on the day, Lee Mason, who's switched off and you've got to be aware of what's going on around you."
Goals from Riyad Mahrez, Ferran Torres and Benjamin Mendy secured all three points for Pep Guardiola's side in a convincing win at the Etihad Stadium.
City's second goal of the game from Mahrez came after city defender Kyle Walker took a quick throw-in straight to the winger in Burnley's half that Dyche claimed was "nowhere near where it was meant to be" after the game.
Do you think Dyche is wrong to question City's throw-in for their second goal?
Yes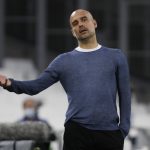 No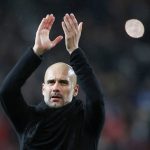 Now that Halsey has made it clear that VAR would not have made the referee aware that thrown-in should not have been taken where it was taken from, it's clearly a problem Dyche should have with the referee.
However, given that City still managed to score five goals on the day, even if the second goal was disallowed, it's hard to imagine City failing to win the game at the weekend.