Former Premier League referee Mark Halsey has been speaking exclusively to This Is Futbol about all of the weekend's controversial decisions in the Premier League.
One of the decisions that he spoke about was a handball shout against Alex Iwobi that referee Chris Kavanagh decided was not a penalty, which VAR agreed with, and the Toffees survived.
It is clear that Halsey agreed with this decision and was happy that the penalty wasn't given.
He said: "I mean you look at the one [during] Leeds [against] Everton on Saturday. I think they got that right because of close proximity as well.
"Look how close he was to the ball; he was so close."
The interpretation of the handball law was actually changed earlier this season after a very high number of penalties were given for handball.
So, perhaps earlier in the season, this Iwobi one might have been given against the Toffees man but not on this occasion, and that clearly pleased Halsey.
This decision may well have gone against Leeds, but it did not impact the result as Raphinha grabbed his first goal for the Whites to help Marcelo Bielsa's men to three points.
Do you agree that this was not a penalty?
No, it was a penalty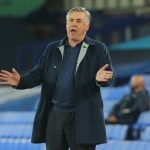 Yes, correct decision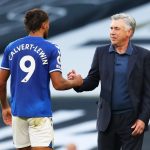 In our view, it was nice that we don't have to talk about a controversial penalty and instead reflect on what was a brilliant game of football with both goalkeepers turning in good performances for their respective sides.
It is also clear that Halsey was pleased to see Iwobi not be punished for his handball, and perhaps judging by his comments, it is something that he wants to see in other games going forward.