Kevin DeVries, Sam Cox and Jamie Smith appeared on the latest edition of the EPL Round Table podcast where they discussed all of the latest Premier League news and the panel spent some time talking about Everton goalkeeper Jordan Pickford during the show.
Questions have been asked about Pickford's spot in the Toffees' starting XI due to some early-season errors. As per the Daily Mail, Pickford's error-prone start to the 2020/21 campaign means that no other Premier League goalkeeper has now made more errors leading to goals than he has since he moved to Goodison Park back in the summer of 2017.
The 26-year-old was dropped for Everton's 2-1 Premier League loss away to Newcastle United this past weekend and during this recent edition of the EPL Round Table podcast, Smith cast some doubt over Pickford's future, suggesting that he doesn't have the quality required to help the Toffees to break into the Premier League's top six or top four.
He said: "I think he has been trading on that reputation, but you only have to watch him to see that whatever it was that he had, he just doesn't have it now.
"I think he's got quite a frantic style of goalkeeping. You think of some of the great goalkeepers and they're very stable, very still, very calm. Pickford's basically the opposite of that.
"I think maybe there are some parallels with someone like Joe Hart, who, when it's going for you, if you have that sort of manic goalkeeping style, you've got the big personality and the ego and all that stuff, I think it all works – but once you start making mistakes, I think you start to feel like a bit of a liability.
"Just watching Pickford recently, it's felt like he's been making an error every game and if you're Everton and your aspiration is to finish in the top six or the top four even, you just can't carry a player like that."
Do Everton need to replace Pickford?
YES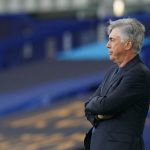 NO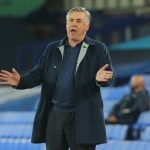 TIF Thoughts on what Smith had to say about Pickford…
It's clear that Pickford hasn't been very reliable throughout his time at Goodison Park and it may be fair to say that the goalkeeping position is one in which Everton can improve when considering how error-prone he has been.
Despite Pickford struggling in goal at the start of the 2020/21 campaign, Everton currently sit in fourth place on the league table, so with that in mind, maybe they have had enough firepower at the other end of the pitch to make up for his errors so far this season, with only four teams scoring more Premier League goals than Carlo Ancelotti's side (15) at this stage of the campaign but whether or not they can keep that up remains to be seen.
If they fail to do so, then maybe the £23.4m-rated man's errors will come under even more scrutiny, so unless the England international can cut these errors out of his game then we feel it won't be a surprise if a new goalkeeper is a priority for the Toffees in the near future.