Speaking recently on the Football Writers Podcast, journalist Darren Lewis raved about the progression Dominic Calvert-Lewin has made at Everton and what he thought the future could hold for the striker.
Since joining Everton from Sheffield United in what was a £1.62 million deal back in 2016, Calvert-Lewin has gone on to feature 145 times for the club, scoring 45 goals and providing 11 assists along the way.
So far this season, the £36 million-rated 23-year-old has highly impressed for Carlo Ancelotti's side, scoring 10 goals over his nine Premier League appearances, averaging a WhoScored match rating of 7.8/10 – ranking him as the club's best performer in the top flight.
The England international was one topic of conversation on a recent episode of the Football Writers Podcast, and in response to a question from Michael Calvin asking whether he thought Calvert-Lewin is a big transfer waiting to happen, Lewis said:
"I do, absolutely. I mean, if you take those stats forward, it's 15 goals in 16 appearances for club and country this season. He is the product of coaching [and] man-management, you can see how a head coach at a football club has improved a player when you look at Dominic Calvert-Lewin.
"The numbers were very modest; I think he hadn't got into double figures before Ancelotti arrived, [he] ended up with 15 goals last season. [He's] well on course to smash that easily – [he's] matched that already if you take into account his appearances for his country.
"He's confident, he is not snatching at his chances, his composure has improved, his ability to bring other people into the game has improved.
"And, yes, I think eventually he will mark himself down as a player who could move up a level. Everton will want that to be with them."
Can you see Dominic Calvert-Lewin winning the Golden Boot this season?
Yes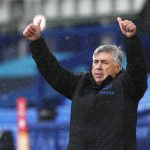 No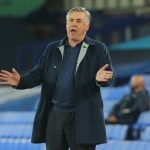 TIF Thoughts on Darren Lewis' comments regarding Dominic Calvert-Lewin…
From Lewis' comments, it is clear that the journalist believes that Calvert-Lewin is destined for great things in the game, thanks largely to the improvement he has made under Ancelotti, and that the 23-year-old has the potential to move up a level in the future.
And while we can't speculate about what will happen in the future of Calvert-Lewin, we agree with Lewis' suggestion that the Italian boss appears to have improved the striker's form, as since Ancelotti's arrival at Everton in December of last year, Calvert-Lewin has gone on to score an impressive 21 goals in just 32 appearances under the 61-year-old.
So whether or not Calvert-Lewin leaves Everton in the future, it does seem that his stock is set to rise regardless.