Fans of Tottenham Hotspur have been reacting to a post on Twitter, in which Alasdair Gold relayed quotes by Spurs manager, Jose Mourinho, regarding the fact that he does not get a mention in Arsene Wenger's new book.
According to Gold, when asked why Wenger didn't mention him in his new book, Mourinho stated: "Because he never beat me. You're not going to do a chapter about 12/14 matches and never win one so why should he speak about me? A book is a thing to make you happy, [to] make you proud, so I understand perfectly."
So, what did fans of Tottenham Hotspur make of Jose Mourinho's comments regarding Wenger's new book?
I love Jose, it's quotes like this that make you realise he was made for spurs ?

— Dan (@flyingshells) October 16, 2020
Stuff of legends. Love him

— Soundman (@NickPriceAudio) October 16, 2020
Thats a cracking answer tbf

— jason lawrence (@jasonlawrence69) October 16, 2020
Without wanting to spoil Mourinho's party, he is not exactly correct in his claim that Wenger never defeated him, as the Frenchman did better Mourinho twice in his career.
Wenger's first league victory against the 57-year-old came in 2017, when his Arsenal side defeated Mourinho's Manchester United 2-0, ending a 25-match unbeaten run for United in the Premier League.
However, what is true is that the Portuguese manager did very much have the upper hand on the former Arsenal boss, beating him 10 times and drawing with him seven times.
Can Mourinho lead Spurs back to the top-four this season?
Yes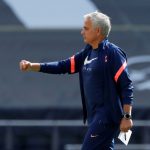 No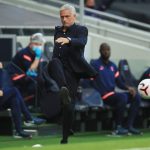 Although, the factual accuracy of the Spurs manager's claim does not seem to have bothered these Tottenham fans, with many more taking to Twitter to share their delight at Mourinho's swipe at Wenger.
HAHAHAHHA??

— a (@springmontage) October 16, 2020
Legend?

— Tottenham Hotspur?? (@Spurs_Ng) October 16, 2020
— Skywalk FC? (@stu_thfc) October 16, 2020
All in all, it would seem that these Spurs fans find it hilarious that Mourinho is still having pops at Wenger, despite the 70-year-old having retired from football management a number of years ago now.