A lot of Newcastle United fans have been left baffled by Steve Bruce's comments ahead of the Toon's game against Manchester United.
Speaking in his press conference, the Toon's manager claimed that he was 'expecting a really difficult game' and that they will be 'wounded' from their defeat to Tottenham Hotspur in their last league game.
Finally, Bruce stated that his side would have 'to play well to get something.'
These comments from the Toon's boss have annoyed these Newcastle fans who are now expecting negative tactics and a negative formation.
So, what do these Toon fans think of Bruce's comments on MUFC?
Do you like these comments?
No, we are just going to sit back now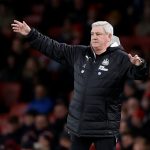 Yes, he clearly has a plan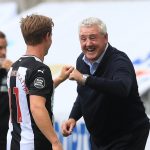 — Stagnating NUFC (@StagnatingNUFC) October 16, 2020
Always the negative brucey. How about saying they've just been battered so if we play well we fancy it.

— Dan Wright (@danw08) October 16, 2020
That's the 5 at the back confirmed then!

— Mark Doyle (@Doyler88kek) October 16, 2020
So defend defend defend and hope ASM can produce something.

— Pete Clarke (@Peteclarke85) October 16, 2020
So far, in the Premier League, the Red Devils have scored five goals and conceded 11, and going into this match, they sit in 16th place in the table.
The Toon, on the other hand, have scored six goals and conceded five and sit in ninth place, so going into the game, you could argue that Newcastle are in better form than Manchester United.
This post continued to draw the attention of these Toon fans who are annoyed.
Any chance you could talk about us ?

— mark martin (@markmar80507509) October 16, 2020
Always bigging up the other team he can't help himself

— Aaron Olsson (@AOlssonNUFC) October 16, 2020
Newcastle have played with two different formations in the league this season, and one of those was a four at the back formation.
Still, against Tottenham, the Toon reverted to a five at the back and snatched a draw thanks to a late penalty from Callum Wilson.
From the replies, it is clear that these Newcastle fans don't want to see the Toon be too defensive, and they feel that they can get after Manchester United and cause them problems.
Certainly, judging by the number of goals that the Red Devils have conceded this season, you could argue that Newcastle could cause them problems.
It will be interesting to see how Bruce lines his side up on Saturday evening, but it is clear that many Toon fans are expecting a defensive formation.