Many Newcastle United fans have been talking about the latest tweet that Pete Graves recently relayed on social media.
Graves' latest tweet talked about Paris Saint-Germain president Nasser Al-Khelaifi and the fact that he has been 'cleared of all charges' related to corruption. These charges pertained to alleged corruption over BeIN Media Group's World Cup rights for the 2026 & 2030 FIFA World Cups.
Al-Khelaifi happens to be the chairman of Qatar-based media company BeIN Sport, which was banned by Saudi Arabia during the time when a Saudi-led consortium was looking to take over Newcastle United. This had sparked a 'cold war' between Saudi Arabia and Qatar. After being banned in Saudi Arabia, BeIN had described the decision as 'nonsensical'.
Graves' tweet about Al-Khelaifi caught the attention of many Toon fans. They made their opinion clear about Al-Khelaifi.
What did Newcastle United fans make of Graves' latest tweet?
Be on SSN now, over and over again. Corruption wins the day AGAIN !!!!

— Geordie Mark (@GeordieMark3) October 30, 2020
Do Newcastle fans have a dislike for Al-Khelaifi?
Yes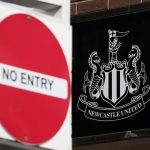 No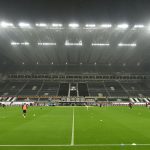 There's a shocker,accused of bribery,no doubt some money changed hands to reach this conclusion also.

— Mark Byrne (@gallowgate13) October 30, 2020
Corruption and bribery wins the day.

— FedUpWithBrick (@Axcrazy1) October 30, 2020
Disgusting the scams in football that still remains in the courts

— Disco Dave (@DiscoDaveToon) October 30, 2020
While Al-Khelaifi has been acquitted of charges, Jerome Valcke has been found guilty of forging documents for the television rights for the two World Cups. Al-Khelaifi was accused of having given Valcke the usage of a villa in Sardinia in Italy and this was reported to have links with BeIN Sport's rights to televise the 2026 and 2030 World Cups (as per the Independent).
Some other Newcastle United fans were also fuming at this update involving the chairman of BeIN Sports.
It's all about the money money money

— Liam ???? ?? (@LiamNUFC98) October 30, 2020
Scandalous!

— ??????WE ARE THE MAGS?????? (M.Hunter9) (@WeAreTheMags84) October 30, 2020
Al-Khelaifi's BeIN Sports had also reportedly tried to block Newcastle's takeover over issues pertaining to piracy. The company had appealed to the chairmen of the top Premier League clubs to block the takeover as it was a 'threat' to their intellectual property (as per The Guardian).
Considering all of that, it is understandable why Toon fans aren't happy with this update and they don't seem to have a liking for Al-Khelaifi.