Celtic podcaster Louis McCaffrey has given his verdict about the club's chase of Hearts left-back Aaron Hickey.
McCaffrey was recently hosting the latest episode of the Cynic Weekly podcast and the panel discussed multiple issues involving the Hoops. They also talked about many potential Celtic transfers.
One player that they focused on was Hickey and if he would join Celtic this summer or not. McCaffrey believes that while this will be a 'great deal' for the Bhoys, Hickey won't be the club's first-choice in the left-back position.
It was recently reported by journalist Mike McGrath that the Hoops are 'set to win the race' for Hickey. Interest from Bayern Munich and Serie A side Bologna has also been reported in recent weeks.
McCaffrey had a lot of things to say about what Hickey could bring to Celtic and his potential role in the club's first team.
He said: "I think [Hickey is] another one who I think is a wee bit of a raw deal. I don't think he'd come in and he would immediately be a starter, I would hope not.
"I think as a player who's going to be here for the next four or five years, who will develop with Celtic and then become the first-choice left-back, without the pressure on him right now, I think it's a great deal."
Can Hickey be Celtic's first-choice left-back?
Absolutely!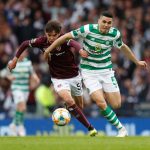 No, would rather have Taylor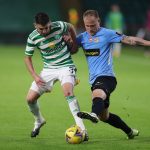 "If Bayern Munich are looking at him and inviting him over, then there's definitely a player there. What he probably needs is a club that are going to give him time and be patient with him.
"Okay, we need a first-choice left-back right now. I wouldn't like him to be it, necessarily, because I think it'd hinder him.
"Say, if that's not the plan for Aaron Hickey, if Aaron Hickey is here to learn and develop – a bit of a project player – I think it's a great signing."
TIF Thoughts…
Hickey has previously plied his trade with the Celtic Under-17s side and after spending a single year with them, he left for the Hearts Under-18s side in the summer of 2018 (as per Transfermarkt).
Despite being 18, Hickey was a regular for Hearts in the 2019/20 Premiership season. He made 22 league appearances and played 30 times in all competitions (as per Transfermarkt).
This shows that despite being pretty young, Hickey has the experience of playing in the Premiership. It might also point to the fact that he has a bright future and is a player with potential.
So, if Celtic do sign him, it may be a good idea to view him as a player in need of careful development, as McCaffrey suggested.
Related posts