The Athletic's Manchester City correspondent Sam Lee has recently made a claim about Lionel Messi and whether or not the Citizens could try to sign the Argentine this summer.
Lee was a guest on the latest episode of the 'Why Always Us?' podcast and the panel discussed many issues surrounding the Etihad Stadium-based side.
One thing that Lee focused on was Messi and if the Citizens could look to sign the Barcelona man this summer, if the 33-year-old really does want to leave La Liga giants Barcelona.
Following Barcelona's 8-2 hammering at the hands of Bayern Munich in the UEFA Champions League recently, Messi was linked with a move away from the Catalan giants. It was reported that the Argentine doesn't want to leave the club in 2021, but rather this summer.
Lee discussed the possibility of City signing Messi and he had some positive updates to share about the whole situation.
He said: "We did a whole podcast on this; basically how we surmised it was there's probably about a 10% chance of him leaving Barca, but if he does leave Barca, there's a good chance of him coming to City.
"Look, the year has changed significantly. The landscape has changed significantly, football-wise [since then]. And what we said back in January or whenever it was, was that I initially had assumed that City wouldn't go all out for Messi and what he would cost now because he's 33 years old and he's not the player he was and it doesn't make sense.
Should Man City try to sign Messi this summer?
Absolutely!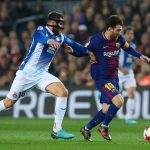 No, we should avoid that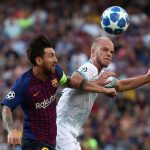 "City don't need that marquee player that they needed in 2008. They don't need that marquee signing that they needed even in 2015 before [Pep] Guardiola came. So I just assumed they wouldn't bother, forget it. But the information I had when I wrote the article back in January was actually if Messi is available, they will go for him."
TIF Thoughts…
Messi impressed in the 2019/20 season for Barcelona. In all competitions, he contributed to as many as 57 goals. In La Liga, the Argentine scored 25 goals and racked up 21 assists while playing 33 games for the Nou Camp-based outfit (as per Transfermarkt).
He picked up an incredible Whoscored rating of 8.71 in the 2019/20 La Liga season. That is the highest rating in the league that he has amassed since the 2014/15 La Liga campaign (as per Whoscored).
That says a lot about why it wouldn't be fair to say that his performances are dipping due to age. He has worked with Pep Guardiola at Barcelona in the past and because of that connection, it will be interesting to see if this potential move may be easier to make for Manchester City.