Fans of Leeds United have been reacting to a post on Twitter, which relayed a report containing comments made by Swansea manager Steve Cooper regarding the Whites' Premier League credentials.
Following Leeds' dramatic late winner against the Welsh side last weekend – which saw United stretch their lead at the top of the table and kept Swansea City a point outside the play-off places – Cooper admitted that Leeds were 'obviously a good team', however, he continued to say: 'whether it's enough to get them out of this league and then compete in the Premier League, I'm not too sure.'
After the article containing his comments was relayed on Twitter by the Yorkshire Evening Post's Leeds United News account, fans of the club flocked to have their say on the matter, with many slamming the Swansea boss for his comments.
Bad loser ???

— Rob (@Rob94247840) July 13, 2020
Just concentrate on yourselves

— Russ Wadeley (@TheWhites1982) July 13, 2020
Golems a bit bitter

— Tom Moss (@mossy743) July 13, 2020
As gracious as ever then!

— Ian Carnegie ???????????? (@iancarnegieruns) July 13, 2020
Following the club's dramatic victory over Swansea – in which Pablo Hernandez scored an 89th-minute winner – should Brentford fail to win their fixture against Preston North End on Wednesday, Leeds can go on to secure promotion to the Premier League on Thursday with a better result against bottom-of-the-table Barnsley.
he is an expert now?

— andrew clavin (@andrewclavin2) July 13, 2020
Trying to win by wasting time at throwins, free kicks, goal kicks ?

— MikeyLUFC (@MikeyLUFCALAW) July 13, 2020
Embarrassing statement just except we were and r well above and better than any team you have played against

— fredchapman46 (@fredchapman46) July 13, 2020
Sour grapes

— Karen Webb (@karenjohnw) July 13, 2020
As such, Cooper's comments regarding whether Leeds have 'enough to get them out of this league' seem a little bit understated, as their victory against Cooper's side has potentially moved them to within one victory from promotion.
Are you confident that Leeds United will earn promotion to the Premier League for next season?
YES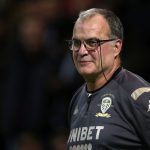 NO