Celtic legend Chris Sutton has slammed Leigh Griffiths and the fact that he's been overweight recently.
Sutton was recently a guest on the latest episode of the Record Celtic podcast and the former Hoops star was asked about many things involving the Parkhead side. One thing he talked about was Griffiths and his situation at the Glasgow side.
This comes after Griffiths hadn't travelled to France with the Celtic first-team because he was overweight. He also hadn't gone to Loughborough with the rest of the Hoops team for the same reason.
When asked about Griffiths' situation, Sutton had a lot of criticism for the striker. The club legend said:
"He's fighting for his career at Celtic, maybe for his football career, full stop. I know Leigh's had problems and we sympathise with that, but this has been the four months when we were off through lockdown, this had been an opportunity for Leigh to really get in shipshape condition. He's had massive issues with his fitness levels, came back [and] transformed Celtic's season.
Is Leigh Griffiths done at Celtic?
Yes, he's done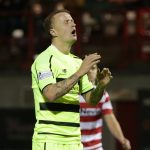 No, he'll play next season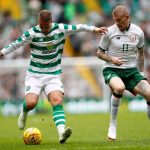 "That two up top, [were] absolutely phenomenal, linked well with [Odsonne] Edouard, it was great to see him back, he seemed happy. And while all the other players would have had programmes, the same as Leigh, during the period which they were off, he should have used that opportunity to get himself in tip-top condition and I think that he's let the club down badly. He's let his teammates down. It's pretty deplorable."
Sutton seems pretty angry at Griffiths and at the fact that he was overweight when he returned to training. He even feels that the striker could now be fighting for his career because of his latest actions.
TIF Thoughts…
It isn't just Sutton who has had harsh words for Griffiths. Celtic boss Neil Lennon himself has criticised the striker.
Lennon made it clear that he isn't happy with the player and revealed it would have been 'pointless' to take Griffiths to France for the pre-season friendlies. The Hoops boss talked about Griffiths' activities on social media and referred to it as 'nonsense'. He then went on to urge the striker to get his fitness back on track.
Even Scott Brown addressed Griffiths' situation and said that the Scotsman needs to 'get himself up to speed as quickly as he can'.
Clearly, there is frustration about what Griffiths, who is valued at £1.8 million (as per Transfermarkt), has done. Considering his contributions last season in 2020, a fit and firing version of Griffiths can be an important player for the Hoops. So he should now focus on getting into a better condition.