Former Celtic player Darren Jackson has recently been talking about Leigh Griffiths following the striker's recent omission from the Hoops' travelling party to their pre-season programme in France.
Jackson was recently a guest on PLZ Soccer's 'The Football Show'. While the panel talked about many things involving Celtic and Scottish football, Jackson was asked about Griffiths and the fact that he didn't travel to France with the Celtic first-team squad because he was lacking in general fitness.
More recently, Neil Lennon addressed this issue and urged Griffiths to stop his social media 'nonsense' and said that it would have been 'pointless' to take him to France given his physical condition. The Hoops manager also said that the striker needs to start working hard to get his fitness back on track, with captain Scott Brown also urging Griffiths to get fit again.
When Jackson was asked about this, he offered his own view on Griffiths: "Reality will probably kick in that the wee man has probably let himself down a bit, if he's overweight. I've not actually spoken to him. Everyone's probably handled it differently. He's probably a boy who needs to be out of the house, needs to be going into training, probably a bit like Gazza [Paul Gascoigne]; they need to be amongst their pals and their teammates and all that, and he's probably struggled. "
Is Jackson right to criticise Griffiths?
Yes, Griffiths deserves it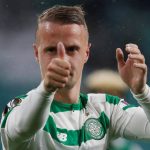 No, he shouldn't do that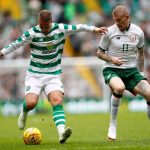 "It's such a huge year for Celtic. Lenny [Lennon] will know they need everybody, and the way the two strikers played, him and Edouard – it was a fantastic partnership. Just the way Edouard comes off the game and Griffiths just plays along the line, it was a perfect partnership.
"I'm sure he'll be using the time now that reality's kicked in, he'll be working hard trying to get back into the manager's plans."
Jackson seems to think that Griffiths, who is valued at £1.44 million, has let himself down. But he also thinks that the striker could soon be trying to come back to being as fit as he can be to make himself available for Lennon.
TIF Thoughts…
Ex-Hoops striker Jackson is actually a former agent of Griffiths, so him saying all this could potentially make some sort of impact on the player and help him return to fitness.
Griffiths has had fitness issues in the past. The Scotsman had sustained an injury early in the 2019/20 season and suffered calf injuries, amongst others, throughout the past few campaigns. He had also missed the second half of the 2018/19 campaign due to mental health issues.
Despite that, he proved crucial in 2020 for the Hoops. He has scored eight goals since the turn of the year and racked up three assists in all competitions. So this shows that he knows how to bounce back from setbacks – and Celtic fans can only hope that he puts this latest disappointment behind him and returns soon.
Related posts