Jim Salveson, Marley Anderson and Niall McCaughan looked back on the 2019/20 Premier League season and looked ahead to the forthcoming campaign during the most recent edition of the Football Social Daily podcast, where the panellists spent some time discussing Wolverhampton Wanderers boss Nuno Espirito Santo.
Santo has been Wolves' manager since the summer of 2017 and it may be fair to say that the West Midlands-based club have progressed positively under the Portuguese coach.
In their first season under Santo, Wolves won the Championship and the Old Gold have finished in seventh place in the Premier League table in both of the two following seasons, earning two more points in the 2019/20 campaign than they earned in the 2018/19 campaign.
Following Wolves' progression during Santo's tenure as boss, McCaughan expressed some uncertainty over the Wolves boss' future during the latest edition of the Football Social Daily podcast, declaring that he believes the 46-year-old coach could be a target for other clubs.
McCaughan said: "He's had such a good season again and since he's got them promoted to the Premier League, the club have gone from strength to strength, and I think that that's kind of risen his stock considerably. So, I think that Nuno Espirito Santo might be a shout for another club to come in and try and poach him.
"Whether that's in the Premier League or not, I'm not so sure. You might see a Champions League team in Europe somewhere perhaps looking to Wolverhampton Wanderers and to Molineux to try and poach Nuno."
Do you think that Nuno Espirito Santo will leave Wolves next season?
YES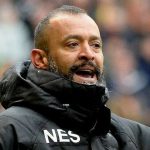 NO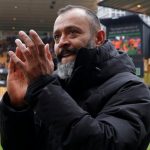 TIF Thoughts…
It may be understandable why McCaughan believes that Wolves' progression under Santo may lead to the Portuguese manager attracting the attention of other clubs, and it mightn't be a big surprise if the Wolves boss does get linked with an exit in the future, given that it may be fair to say that he's done an impressive job at Molineux thus far.