Fans of Tottenham Hotspur have been reacting to a post on Twitter, which contains a trailer for club's upcoming Amazon documentary.
It is fair to say this season has been an eventful one for Spurs – and not for all the right reasons.
Following a fourth-place finish last season, as well as reaching the final of the Champions League, this term, the club currently occupy ninth place in the Premier League table and exited the Champions League in the round of 16 against RB Leipzig.
In addition to this, last November, the club sacked long-serving manager Mauricio Pochettino and replaced him with Jose Mourinho – who, along with performing quite disappointingly in the league, has also reportedly fallen out with the club's record signing, Tanguy Ndombele.
And, with Amazon's cameras filming the goings-on at Spurs this season ahead of a documentary being released on the club, fans have been reacting to the release of a trailer for the show, which was shared on Twitter by Hotspur Related.
This is a form of torture

— Chris McCarthy (@ChrisMcCarthy96) July 10, 2020
Basically the doc is about the sacking of the best manager we've had for a while and the appointment of a so called special one. Only my club could make money out of this and think it's alright. Absolute joke.

— Tonetek (@Tonetek1) July 10, 2020
It's disgraceful. Levy is killing this club and has turned us into a laughing stock.

— The White Wall (@Glory_THFC) July 10, 2020
As can be seen from the reaction of these Spurs fans, they are not overly happy with the fact that this season – which is currently on course to see the club's worst league finish since their 2007/08 campaign under Juande Ramos – is being made into a documentary.
As a Spurs fan who went to his first match as a little kid in 1981, I'd rather thrust rusty hot pins in my eyes than watch 0.1 seconds of that.

— Scott Rudgley (@rudgleys1) July 10, 2020
this is gonna be horrible

— George?? (@_modler) July 10, 2020
Nail in the coffin for levy

— what will be will be (@mertonwalks) July 10, 2020
As such, it would certainly appear as if many of these Spurs fans are not particularly looking forward to the documentary coming out.
Are you looking forward to the Amazon documentary coming out?
Yes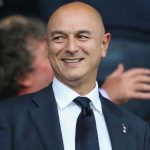 No