On the latest episode of The View from The Lane podcast for The Athletic, Jack Pitt-Brooke, Charlie Eccleshare and James Maw have been discussing the latest goings-on at Tottenham Hotspur and reacting to the 3-0 win against Leicester City last weekend. 
One topic of conversation on the recent episode, which was titled 'Is Harry Kane back?', was the future of Japhet Tanganga. The academy graduate has seemingly been in talks with the Lilywhites over a new deal for some time but an official announcement is yet to be made.
Eccleshare provided an update on the 21-year-old's contract situation at the north London club on the latest podcast, saying:
"The negotiations between the club and player have stalled a little bit. No agreement is close. My understanding is that he's been offered around £15,000 a week. The expectation was that that might have been higher given that he's had this breakthrough season.
"I mean, it's interesting, he's currently on just above £1,000 a week, which obviously, in normal terms is very good, especially for someone that young, but in Premier League football terms, given that market, sounds very small. I was looking at that [in his recent piece for The Athletic], and whether a compromise will be reached, and there is confidence that there will be a compromise.
"He really wants to stay at Spurs, the club really want to keep him. It's a really interesting area because you think someone like Tanganga, who this time a year ago, most of the Spurs crowd wouldn't have heard of, or been able to pick out in a lineup and obviously now, by playing 11 games, he's a very well-established player and looks completely natural in that Premier League environment and is in line for a huge increase.
"It's a no-brainer for a club like Spurs, you want to sign up a young talent and it would be catastrophic to lose him on a free."
He later adds:
"I think in the case of Tanganga, there will have to be compromises but hopefully they will reach an agreement because he's been a real bright spot on what's often been quite a difficult season for Tottenham."
TIF Thoughts…
The defender hasn't featured since the Premier League restart due to injury but has made 11 total first-team appearances for the North London club in what has been a breakthrough season, and he has impressed in the Premier League; averaging a 7.00 rating, so you can certainly see why the club are keen to renew his contract.
Do you think Tanganga will sign a new deal?
Yes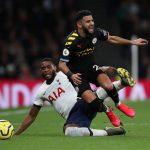 No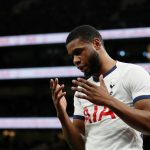 It will be interesting to see if the 21-year-old and Spurs can come to an agreement before the start of next season.