Niall McCaughan, Jim Salveson and Alex Boardman discussed all things Premier League during a recent edition of the Football Social Daily podcast and one of the topics of discussion that came up during the show was Manchester City midfielder David Silva. 
Silva delivered a sublime performance in City's most recent Premier League game – a 5-0 win over Newcastle United. The Spaniard, who is set to leave City at the end of the season after being at the club since July 2010, provided two assists and scored one goal in this game, earning a perfect 10/10 rating for his performance in this match from stats website WhoScored. 
During this recent edition of the Football Social Daily podcast, McCaughan asked comedian and Manchester United supporter Boardman: "As a United fan – I know he plays for City, I know he's been instrumental in their success over the last decade or so – how much of a player is he and how much do you rate him?"
Boardman was full of praise for Silva in response to this question from McCaughan, saying: "I rate him really, really highly. There's a couple of City players that as a football fan, you just have to really, really admire and they're both the central midfielders. Both [Kevin] De Bruyne and Silva are absolutely magnificent. Just wonderful, wonderful players.
"Silva's almost easier to like, because he sort of links everything up, he does the silky touches, he still works really hard but he's less likely than De Bruyne to be at left-back one second and then on the right wing five seconds later. 
"He's just a player who seems to glide through games and he seems to have always done that. I was watching him [against Newcastle] and what was so good about him was the way he brought every single player into the game and he just makes everyone around him better. 
"So he will be missed, because talents like him, they don't come around too often. The last one United had, bar [Bruno] Fernandes, that was like this was somebody like Paul Scholes."
Who was the better player in their prime?
DAVID SILVA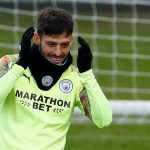 PAUL SCHOLES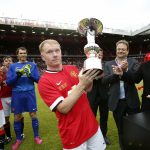 TIF thoughts…
Boardman's positive comments about Silva, despite the fact that the Spaniard plays for a rival team of the one he supports, may indicate how much quality the playmaker has shown during his time in the Premier League and shows how much respect the 34-year-old has earned through his performances in England's top-flight. 
Boardman's comparison between Silva and Manchester United legend Scholes could be seen as high praise considering how much success Scholes enjoyed during his playing career and the fact that a fan of a rival club is willing to openly praise the City man like this may say a lot about Silva's status in the English game.