In a recent discussion on The Athletic, Manchester City correspondent Sam Lee discussed what City's successful overturning of a two-year ban from Champions League football means for the future of Pep Guardiola.
Following their appeal against a two-year ban from European football – as well as a €30 million (£25 million) fine – which was imposed due to UEFA claiming they had found that City had broken financial fair play rules, as well as 'seriously misleading' UEFA in their investigations into the club, the Court of Arbitration for Sport announced on Monday that Manchester City's ban would be completely removed, while the fine would be reduced to just £9 million.
While there are obvious financial benefits to City being allowed to participate in the Champions League over the course of the next two years – it had been reported that the club was set to miss out on €200 million (£180 million) if the ban was upheld – the result also looks to have eased concerns about the futures of some of City's players and staff.
And, when asked on a recent discussion on The Athletic whether or not he believed the decision of CAS would mean that Pep Guardiola would stay any longer than the length of his current contract – which is due to expire next summer – Sam Lee stated he does think it will now be 'easier' for Guardiola to remain at the club.
He wrote: "I think how the team play/react next season is a bigger issue. I would say that City being in the CL makes it easier for him to stay but I don't think it's the biggest factor at all – it'll be whether he and his players still have the energy after five years."
TIF Thoughts…
As Lee states, the verdict of CAS has given no guarantees that Guardiola will stay beyond the end of his current deal with the club, however, it does make it 'easier' for him to sign a contract.
Following the CAS verdict, do you think Guardiola will now stay at the club beyond 2021?
Yes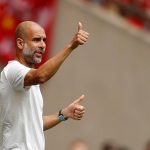 No