In a recent episode of The Guardian's Football Weekly podcast, Jonathan Wilson discussed Manchester City's likely transfer business over the summer, including Sergio Aguero's potential swap deal with Milan Skriniar.
With Manchester City conceding their Premier League crown to Liverpool in rather emphatic fashion this season, it has been greatly discussed in which areas of the pitch City need to invest in over the summer in order to mount a title challenge next term.
The majority of this talk has been regarding the City defence, as Pep Guardiola did not replace the outgoing Vincent Kompany last summer, as well as Aymeric Laporte and John Stones been out injured for varying spells over the course of the season.
And, looking at the statistics, it would indeed seem as if the defence is where City need to strengthen, as the club have already conceded 34 goals this season, which is 11 more than they did in the 2018/19 campaign, despite having currently played four games less.
On this subject, Jonathan Wilson recently discussed on the Guardian Football Weekly podcast exactly where he thinks City need to improve this summer, as well commenting on reports that suggest City may be tempted to offload Sergio Aguero in a swap deal for Inter's Skriniar.
He said: "I think where Liverpool have really beaten them this season is that Liverpool have defensively been much improved and much better. So, City have scored more goals than Liverpool this season, and Liverpool have conceded significantly fewer than City.
"So, losing Kompany and not replacing him was a big issue. I think the struggles of [Nicolas] Otamendi and Stones are a big issue. So that's at least two central defenders they've got to bring in. At left-back, [Benjamin] Mendy hasn't quite kicked on after the injury, is [Oleksandr] Zinchenko good enough? I don't know. So they might be looking at a left-back.
"Then there's all these rumours, or reports, that Aguero might be going to Inter in a swap deal for Skriniar, who would be a centre-back. But then if you don't have Aguero, do you score sufficient goals? Gabriel Jesus, I can't quite work out. He's clearly a very, very good player. But I'm not sure if he's just one notch below what City need or whether he will suddenly explode and score 40 goals next season. But I think they will probably need another forward as well."
TIF Thoughts…
As such, it would appear that Wilson believes that City may well sacrifice Aguero to bring in one of their defensive targets this season. As a result of this, they will then also likely need to sign another striker – as it would appear that Jesus has not convinced the journalist that he is capable of filling Aguero's shoes.
Would you be happy for City to send Aguero to Inter in a swap deal for Skriniar?
Yes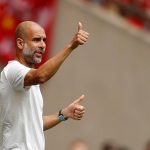 No