Some Celtic fans have been talking about an image of defender Aaron Hickey that recently emerged on social media.
The Scottish Sun recently wrote an article about Hickey, reporting that an image had appeared online of the Hearts player appearing to hold a Celtic scarf aloft in the away end at Ibrox in 2017.
This article was also relayed on Twitter by the Scottish Sun themselves. This caught the attention of many Celtic fans and they flocked to this tweet. Some of them mocked the Scottish Sun's reporting around this.
So what! Rag of a paper

— J julien (@the_LEGEND1976) June 12, 2020
Do you want Celtic to re-sign Aaron Hickey?
I'd love it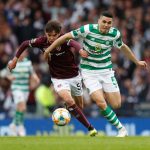 No, we have Taylor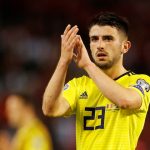 Wow what amazing investigative journalism ??????

— Celtic 1888 (@MfOReilly79) June 11, 2020
While these Hoops fans weren't pleased with the Scottish Sun's journalism, some others talked about Hickey being a Celtic fan. Some also talked about the fact that Hickey has previously been at Parkhead before he joined Hearts.
Amazing

— Jan Venegoor of Citylink (@GaelicRoadSign) June 11, 2020
Ooft call the cops. No secret he's a Celtic supporter ??

— William bonner (@boywilliebob) June 11, 2020
Was he not still in the Celtic youth team at that point as well?

— Steven Daley (@DaleySteven) June 11, 2020
Oh my god, I don't believe it. Sensational stuff.

— Matthew Roberts (@mroberts19771) June 12, 2020
You're joking? So this lad has the cheek to be at a football match, as a supporter? That's it, the games gone. I'm truly shocked by this startling revelation.

— Steve Brown (@StevieBroon78) June 12, 2020
He was also in the celtic academy ????

— Kevin twist (@KevinTwist67) June 11, 2020
He was a youth player at Celtic

— 'Iza fur fu…' Matt (@matt_mockus) June 12, 2020
One Celtic fan even said that the Hoops should make an attempt to re-sign Hickey soon. The club has indeed been linked with a move for Hickey, with Hearts now relegated. Not just Celtic, the likes of Chelsea, Bayern Munich and even Lazio have been keeping tabs on the 18-year-old defender.
Sign him up

— Peter Cannon (@PeterCa82245007) June 11, 2020
Hickey has indeed been at Celtic in the past. The young left-back had joined the Hoops from Hearts themselves back in the summer of 2017. He had played in the club's Under-17s side for a year and he left in the summer of 2018 to join Hearts once again (via Transfermarkt).
Considering Hickey is a former Celtic player, it is hardly surprising that the image of him holding the Hoops scarf has emerged. But despite links emerging between the two parties, Celtic should know that they already have two left-backs in Greg Taylor and Boli Bolingoli in the current side. So signing another left-back will not make too much sense.
Related posts