Many Celtic fans have been talking about the latest news update involving Craig Gordon that emerged on social media.
Goalkeeper Gordon recently confirmed his Parkhead exit in an Instagram post that he shared. He said that his stint at Celtic has been the 'most successful period' of his career. He also thanked the Glasgow club for offering him a chance after he had taken a break in his career. The goalkeeper also revealed that he is looking forward to the next chapter of his career.
'CelticBible' recently shared this news on Twitter. Many Celtic fans flocked to this update and began talking about what the future might hold for the club in the goalkeeping department.
Hopefully means big FF is staying put! But then again Celtic love clearing out players #CelticFamily

— Craig Wilkinson (@xfitbhoy) June 28, 2020
Was it a mistake to let Gordon leave?
Yes, he's a valuable player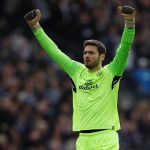 No, he's too old now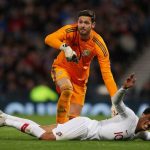 All the best in the future Craig.thanks for the last 6 year??our priority is keeping FF so if joe hart joins is he willing to be the 2nd choice goalie.FF all day long??

— Alec (@Alec88075030) June 28, 2020
Maybe that's a sign that the big waw is staying?

— Pleasetalktomeless (@talktomeless121) June 28, 2020
A good servant, makes securing Forster imperative now. To lose both keepers and Simunovic isn't ideal going into a new season with a new first team coach

— AB8™ (@AB8_) June 28, 2020
These Celtic fans seem to think that with Gordon leaving now, the Hoops should secure the services of Fraser Forster soon.
While Gordon had joined Celtic back in the summer of 2014, he wasn't a regular for the club in the 2019/20 season. He made only six appearances in all competitions and didn't play even once in the Premiership. He made three Europa League appearances for the Hoops (via Transfermarkt).
Many other Celtic fans talked about how the club should deal with Gordon's exit.
Emotional that is, leaves as one of Celtic's most decorated goalkeepers, better for everyone he left though, get La Gran Muralla in now @CelticFC or I want my ST money back https://t.co/8DS5IZe0zK

— Aidan (@AidoM67) June 28, 2020
New GK signing imminent ? https://t.co/ODGN0f3zT8

— Marko Rollo (@TheWebsEdge) June 28, 2020
Good riddance https://t.co/4MQRN07Vx7

— Muiry (@MuiryCeltic) June 28, 2020
The Scottish Sun had reported that while the Hoops did make a contract offer to keep Gordon, they are also working on a deal to sign Forster once again this summer.
So this shows that progress is being made in this regard. Forster had been a regular in the 2019/20 season for the Hoops and because of that, he could be crucial to helping the club win a 10th Premiership title in a row next season.