The Athletic reporter Tim Spiers has been discussing the current situation surrounding Nuno Espirito Santo's contract with Wolverhampton Wanderers.
Wolves appointed the Portuguese manager in May 2017 and no details of his contract were released by the club at the time (per The Guardian).
However, the following summer an extension to Nuno Santo's contract was announced by the club which is the current deal that he is on and it runs until 2021 (per Wolves).
So, with just over a year left on his contract, in the latest episode of The Athletic's The Molineux View Podcast, Spiers discussed the latest on the contract.
He said: "This is an ongoing issue; it's been going on for a while. He's out of contract next summer, as everybody knows.
"He was asked about it in Friday's Zoom press conference with quite a few journalists, broadcasters, radio and whatnot. He was in good spirits. I think he quite likes the Zoom format.
"He kind of said: 'Look, it wasn't the time to talk about it during the pandemic, there was lots more stuff going on.' But the key quote was: 'Now we are back, we'll have time to talk.'
"So, he's obviously he's open to talking. It sounds like that's going to happen quite soon. He says: 'It's so good to be here, we're still under contract.' I get absolutely no impression at all that he's angling for a move.
"He knew that that question would come up. So I'd imagine that's a bit of a pre-prepared answer. So, for him to say: 'Now we're back we'll have time to talk,' I think that's a very good sign."
TIF Thoughts…
As can be judged from what The Athletic journalist had to say, it seems that it is just a matter of time before Nuno Santo signs a new contract with the Old Gold.
Does Nuno Espirito Santo have the potential to make himself a Wolves legend?
Yes, it is very possible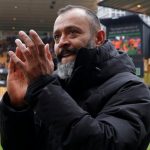 No, that won't happen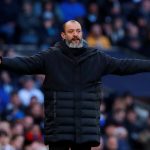 With Wolves having been champions of the Championship in his first season, qualified for the Europa League in his second and looking on course to do so again in his third (per Transfermarkt), it seems likely fans will be delighted with what Spiers had to say.