In recent comments made while speaking on The Athletic's Why Always Us? podcast, Jack Pitt-Brooke discussed his adoration of Bayern Munich midfielder Thiago Alcântara, as well as Manchester City's and Liverpool's reported interest in the player.
Since joining Bayern Munich from Barcelona for a fee of £22.5 million back in 2013, Thiago has gone on to make 230 appearances for the German giants, scoring 31 goals and providing 37 assists.
However, recent reports have claimed that the Spanish midfielder has not yet responded to Bayern's latest contract offer, while also stating that he would be interested in a move to the Premier League – with Manchester City and Liverpool both mentioned as potential destinations for the 29-year-old.
Speaking recently on Manchester City's Why Always Us? podcast, Pitt-Brooke discussed his love of the Bayern midfielder, as well as commenting on the interest in the player.
He said: "I'd love to see Thiago at [Manchester] City, I think he is one of my favourite players in the world, he's an absolutely astonishing player. I can't really think of anyone else like him in terms of his ability in passing, touch, ability to run with the ball, get past opponents – even David Silva, as good as he is, doesn't have that kind of dribbling capacity in quite the same way. He's an absolutely unique footballer, I love watching him.
"It sounds – I'm not massively on top of this – but it sounds as if he might be leaving Bayern [Munich], and I know that City and Liverpool have both been linked. Look, I'd love to see him in the Premier League, but I would desperately love to see him at City and of course, we know what a massive fan Pep [Guardiola] is of him because, of course, Pep signed him for Bayern from Barca when he took over back in 2013."
TIF Thoughts…
It could be argued that City potentially hold a better hand than Liverpool for the potential signing of Thiago, as, like Pitt-Brooke states, Guardiola already has a relationship with the player – first coaching him at Barcelona before signing him for Bayern.
Do you think City will beat Liverpool to the signing of Thiago - if he leaves Bayern?
Yes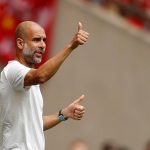 No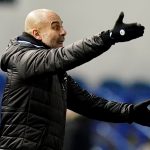 However, with City still waiting to hear whether or not their two-year ban from European football will be upheld, one would assume that, should City not be able to participate in the Champions League, it would be unlikely for a player in his prime to want a move to the club.