A lot of Leeds United fans have replied to a tweet from their club showing a goal Mark Viduka scored against Arsenal in 2003.

The footage shows Dominic Matteo drive forward and then float a ball to a clearly offside Viduka. (0:02) The Australian then cuts in onto his left foot and curls an effort into the net. (0:10)
This match ended 3-2 to the Whites, and it handed Manchester United the title, but judging by many of the responses, these Leeds fans don't care.
Was this one of Viduka's best moments in a Leeds shirt?
Yes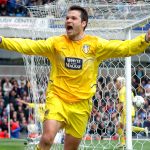 No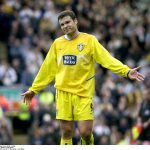 ? "Viduka can finish it, he has finished it! Game over!" pic.twitter.com/7g4DYGEphL

— Leeds United (@LUFC) May 4, 2020
I still love just how far offside he is

— Simon Duffield (@scduffield) May 4, 2020
He's offside aswell and that makes it even better.

— Kyle Tattersfield (@ItBeReyt) May 4, 2020
It was well offside but who cares. Viduka was top quality for us ??????

— James Magee (@JamesMagee1) May 4, 2020
What a player!

— David Agnew (@davyaggie1) May 4, 2020
Was at that game, have never celebrated a goal more than I did that day when Viduka scored.

— Keith Lightle (@KeithLightle) May 4, 2020
Never celebrated a goal like that before. My shins were in tatters,I ended up with my feet where my head should of been haha

— Robbie Hyett (@HyettRobbie) May 4, 2020
@RyanBurkinshaw1 that kit

— Joshua (@JoshJBowerman) May 4, 2020
It never gets old, it really doesn't! Punched the air here in Bristol. Every time I watch this vid I still get those same feelings of "get in"!!!

— Yokelbloke (@brizzleblokeuk) May 4, 2020
one goal that will always give me goosebumps

— Jaemon Targaryen (@JaemonTargaryen) May 4, 2020
What do we think?
One Leeds fan took a still image of the ball to find Viduka, and he is so far offside, but from there, Viduka does brilliantly to create the space for himself and finish. (0:10)
Judging by a lot of the replies, many Leeds fans went mental when Viduka did this for the Whites, and they seem to think that the goal is made better by how far offside the Australian was.