Fans of Everton have been reacting to a post on Twitter, which shares the design of a concept kit for the 2020/21 season.
The image, which was uploaded by Bluekipper.com on Twitter, features Dominic Calvert-Lewin sporting a Hummel top with a blue body, white chevrons on the shoulders, and quite a large white collar.
In reaction to the image, fans of the club have flocked to have their say on the shirt, with many commenting on the size of the collar.
Are you pleased that Hummel will be making Everton's kits for the next three seasons?
No, we could do better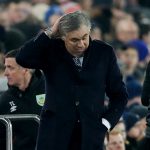 Yes, I'm happy with them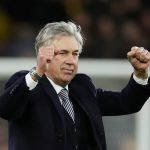 Would you like this if this was the new Everton kit? #EFC #hummel #EFCKit pic.twitter.com/q2Aw45wKFV

— Bluekipper.com (@bluekippercom) May 22, 2020
He wants his collars bqck pic.twitter.com/voks1rw7ar

— ????? (@Sean88999) May 22, 2020
Collars like Harry hill? No ta.

— CRSH3LL80 (@crshell80) May 22, 2020
No

— Indy (@indym500) May 22, 2020
No collar please.

— Tony (@westernmulga) May 22, 2020
Nice but that collar has got to go

— Kevin Harrison ™ (@KevertonH) May 22, 2020
Nope

— Phil Barry (@Noodlepig) May 22, 2020
What do we think?
Everton recently announced that Hummel will become their kit manufacturer from the 2020/21 season, in what is a three-year deal reportedly worth £9 million-a-season to the club.
In a statement, the club announced that news regarding next season's kit will be announced 'in the coming weeks'.
However, should Hummel wish to keep the fans happy with the design that they provide for Everton's kit, we would recommend that they stay away from the idea of an overly large collar, as it would appear from their comments that these fans dislike the look of the design posted on Twitter.