A lot of Leeds United fans have flocked to a post from Luke Ayling that is in response to a tweet from Darren Bent – who selected Ayling's wonderful volley against Huddersfield Town (0:10) as his Goal of the Season for the Championship.
Ayling responded with a tweet that said, 'the man knows his stuff' and this has triggered a response from these Whites fans who are surprised Bent is right about something.
A few fans even mentioned his comments on Marcelo Bielsa last season, which can be found here.
The man knows his stuff ?? https://t.co/MfcFOKHr2D

— Luke Ayling (@lukeayling_8) April 6, 2020
Even the haters are starting to fall in love with leeds. #bielsaball #lufc

— Marc Clarey (@clarey_marc) April 6, 2020
Apart from when he said we wouldn't go up this year ??

— TJ (@salopwhite) April 6, 2020
He's got something right !!!

— Tony Fitzgerald (@ScottTonyfitz11) April 6, 2020
He doesnt usually but hes right this time, remember he said there was no chance bielsa be here this season? Pack it in darren ???

— Emmo Lambe (@EmmoLambe) April 6, 2020
Apart from when he said Bielsa was going last May ?

— JDM (@SirBigJon) April 6, 2020
Other Leeds fans praised Ayling's volley.
Not only goal of the month, but goal of the season! Never thought you would top the one against Birmingham, but glad that you did!

— Jonathan Powell (@jpowell100) April 6, 2020
Same again Luke when we get back to business #ALAW

— Peter T (@PeterTu27492601) April 6, 2020
Must admit when the ball came over i thought is this row z! And bang! Limbs everywhere ??watched it about 50 times since

— Matt Miller (@MattMil57601769) April 6, 2020
Van Persie wears Luke Ayling pyjamas

— Bobby (@bobby_wilson1) April 6, 2020
What do we think?
Judging by some of the responses, Bent is not that popular with many Leeds fans because last season, he told Sky Sports (via Football FanCast) that he thought that Marcelo Bielsa would leave Elland Road.
Do you care what Bent thinks?
Yes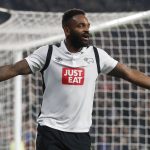 No
However, we don't think many Leeds fans will begrudge the former Aston Villa striker for selecting Ayling's volley (0:10) as one of the goals of the season.
It was an incredible goal (0:10) from the former Bristol City man, and it is good to see that Bent recognises it as such, even describing it as 'van Persie like'.
That is some high praise for Ayling.