A lot of Leeds United fans have flocked to a post showing a video from Luke Ayling's Instagram story of his daughter performing the 'Ayling flop' – a move that the 28-year-old has used to win his side many free-kicks this season.
The footage shows Ayling slightly nudging his daughter in the back, and then she falls over on top of the ball.
This video has gone down well with many Leeds fans, who very much enjoyed this content.
.@lukeayling_8 teaching his daughter the Ayling flop will cheer you up ? #lufc pic.twitter.com/6g9LxjXcks

— Barney V2 (@barney___21) April 2, 2020
Absolutely brilliant ?????????

— Dave (@mcbdave) April 2, 2020
This is very funny. ??

— Paul (@GravPa) April 2, 2020
The similarity is uncanny!

— ???????????????????? (@RiotBadger) April 2, 2020
That made me chuckle no ends ?

— JordanLufc ?? (@JJ_jordie) April 2, 2020
Love this ?

— Gemma Ward (@lufcgem) April 2, 2020
Brilliant MOT ?

— Dave Luke (@Dave_61luke) April 2, 2020
I think that her flop is more convincing than his?

— Martin Andrew Smith (@smith_mas) April 2, 2020
That's brilliant Billy boy! ???????????

— Linda (@HGWhites) April 2, 2020
My favourite thing I've seen today.

— John Smart (@JonnySmart1961) April 2, 2020
Dirty Leeds

— David Greenwood (@djg330) April 2, 2020
the secret's out now

— Tim Patel (@TimPatel86) April 2, 2020
What do we think?
Ayling has performed this flop so many times this season that a compilation video was made of it by a Leeds fan.
Did you like this video from Ayling?
Yes, very funny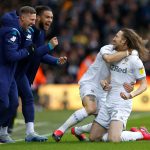 No, bit pointless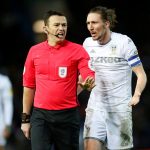 It is good to see that he has taken this as the joke it was intended to be and 'taught it' to his daughter.
The former Bristol City man spoke last week about life in quarantine and answered many questions from a lot of Whites fans, and it was good to see that he was still trying to keep people entertained with this content.