Some Celtic fans have been talking about the latest post involving Ian Wright that caught the attention of many.
A Hoops-related page called St. Anthony recently posted an image of Wright in a Celtic jersey. The caption called Wright a 'chancer' who 'was sent back with his tail between his heads'.
On reading this post, many Celtic fans were left talking. Some agreed with the stance on Wright, while others disagreed with it.
I actually thought he had a good attitude when he played for us and tried hard on the pitch. Truth is he was just a shadow of the player he was at his peak

— Stevie Jackson (@bobby__peru) April 1, 2020
Harsh. Didn't see him as a chancer. He was simply finished by the time he got here.

— Bon Scott (@BonScott_1) April 1, 2020
Topped his pension up same as Keane and a few others

— Francis Glasgow (@francis_glasgow) April 1, 2020
Was Ian Wright a 'chancer' at Celtic?
No, he wasn't Yes, hate him for it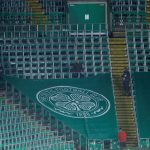 Never be remembered as a Cellic man.
Celebrity. No a Celt

— Peter Lubo Bolingoli Murphy (@PeterMurphy72) April 1, 2020
Just here for the money

— JB (@IJimBlack1) April 2, 2020
What a disgusting thing to say about someone who played for Celtic. Doubt many will agree with you.

— David Patterson Jr (@DavidPSNP) April 1, 2020
Wright had joined Celtic from West Ham in the October of 1999 and after spending a few months at Parkhead, he left to join Burnley in the February of 2000.
During his time at Parkhead, Wright had made ten appearances in all competitions and had scored three goals during this time. All of them had come in the league.
What do we think?
It is tough to know what Wright's actual intentions really were when he joined Celtic. Only he knows that. But he is widely known as a legend in the English game considering how he had scored 185 goals in his Arsenal career. Celtic fans should be glad that he graced the Hoops jersey and remember those moments fondly.