Spurs fans have been discussing an image of Tanguy Ndombele sat in his kitchen. 
Lilywhite Rose shared the image of the Frenchman, who became Spurs' club-record signing when he joined from Lyon last summer. The 23-year-old enjoyed a bright start to his career with the North London club; scoring on his debut in a 3-1 win against Aston Villa, but has struggled with fitness problems throughout the season.
With the Premier League currently suspended, it is no surprise to see the French international being closely looked at by a lot of Lilywhites supporters, perhaps in the hope that he will be fully fit by the time football does resume.
Do you think that Ndombele will be fully fit by the time the Premier League resumes?
Yes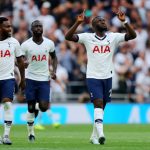 No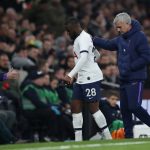 Reaction from Spurs fans to the image of Ndombele can be seen in the tweets below.
He seems happy

— For_Soccer (@ForSoccer4) April 6, 2020
In the kitchen. Not surprised

— P A X T O N-R O A D-O R I G I N A L (@PatBosto) April 6, 2020
Get him out of the kitchen

— dean merrick (@deanmerrick) April 6, 2020
Hiding his stomach. wonder why?

— SpursPoint (@SpursPoint) April 6, 2020
He just can't leave the kitchen, can he?

— LEDLEY'S SON (@ThfcBDB) April 6, 2020
Doesn't look too fat, seriously relieved

— Jack (@Jack_Doyle82) April 6, 2020
I see he's expecting. Congrats!

— Not on my Poch (@NotSoSpursy) April 6, 2020
These Spurs fans were quick to make jokes at Ndombele's expense, with some fans seemingly fed up with his apparent lack of fitness.
What do we think?
Although he has struggled with fitness issues throughout the season, it is disappointing that these Spurs fans are so critical of the French midfielder. Hopefully, with another pre-season under his belt, he will be able to perform a lot better next season.