Fans of Tottenham have been reacting to a post on Twitter, in which Lucas Moura reacts to footage that recreates his dramatic winner for Spurs in the Champions League semi-final last season.
The footage is of two young Spurs fans recreating Moura's famous last-minute winner against Ajax, which the Brazilian then quote-tweeted, and commented with various appreciative emojis.
In reaction to his post, fans of Tottenham have flocked to have their say, with many suggesting that seeing the footage has, much like the 27-year-old winger, made them very emotional, while others have simply commented on how influential Moura was to Tottenham during their Champions League run.
Was Lucas Moura's third against Ajax your favourite moment as a Spurs fan?
Yes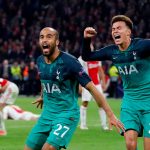 No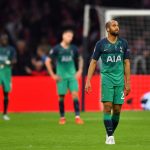 ????????????? https://t.co/j0GAEIGuHA

— Lucas Moura (@LucasMoura7) April 21, 2020
Cheers, I'm crying, nice one

— Thfcjoey (@lilywhitescoys) April 21, 2020
Made our season and then got unceremoniously dumped. You are a true gentleman.

— David K (@thfc0405) April 22, 2020
Lucas hero for ever #COYS

— Martin Dolan (@Martindolan101) April 22, 2020
Lucas. You will always be a Spurs legend for that hatrick. That is the best moment in my 30 odd years supporting. What a moment and what a goal. Thanks

— Mark (@1981spur) April 21, 2020
lucaaaaaaaaas!
lucaaaaaaaaaaaaas!
finalistaaaaaaaaaaaaaa!

????

— Jaba Chubinidze (@JChubinidze) April 21, 2020
??

— Paul (@Pauldonaghue) April 21, 2020
While some fans have claimed that Moura's third goal of the Ajax match is their favourite moment in supporting Spurs, it is hardly surprising considering just how dramatic it was.
Spurs looked down-and-out having lost the first leg of the semi-final 1-0 at home, before falling a further two goals behind in the second leg.
However, three goals from the 27-year-old winger in the 55th, 59th and 96th minute turned the tie on its head and sent Tottenham through to their first-ever Champions League final.
As such, it is no wonder why so many fans have claimed the recreated footage, along with Moura's comments, has made them so emotional.