A lot of Newcastle United fans have responded to a tweet from Luke Edwards.
The Daily Telegraph reporter tweeted on Tottenham Hotspur reversing their decision to furlough their non-playing staff and that it was now up to Newcastle to do the same.
However, it seems that these Toon fans do not have much faith in their club or Mike Ashley to do the right thing.
#thfc have reversed their furlough decision, so over to you #nufc…

— Luke Edwards (@LukeEdwardsTele) April 13, 2020
Never going to happen

— Ian Robertson (@roburko67) April 13, 2020
Ha. Mike Ashley? Ha ha.
You know better than that Luke.

— David Mcgivern (@davemcg1) April 13, 2020
Not a hope

— Martin Jones (@jonesey1978) April 13, 2020
Totally agree – it's all about money to him – doesn't have an ethical or compassionate bone in his body

— Michael Gallon (@MichaelGallon) April 13, 2020
never gonna happen. It's all about the money.

— Esther ?? NUFC (@NUFC_fan) April 13, 2020
Haha Ashley won't

— JAMES (@JPCAJC) April 13, 2020
More chance of this takeover happening

— Stu Blemings (@stublem1892) April 13, 2020
Mike Ashley right now… pic.twitter.com/SzZwII9Mrh

— Barry Blakely (@BarryBlakely) April 13, 2020
What do we think?
The Toon were the first club in the Premier League to furlough their non-playing staff. They were joined by Spurs, Liverpool, Bournemouth, and Norwich City.
Do you think Ashley will change his mind on this?
No Yes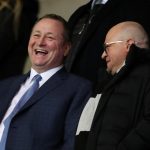 The Reds reversed their decision two days after announcing they intended to furlough staff, and on Monday, Tottenham announced that they would no longer be furloughing their staff.
So that just leaves Newcastle, the Cherries, and the Canaries.
As of last week, Newcastle had no plans to change their decision, so it remains to be seen if Tottenham changing their mind will force the Magpies to do the same.
Judging by the replies to these tweets, it seems that not many Newcastle fans are hopeful.