Some Celtic fans have been left talking by the latest post involving Craig Bellamy that went viral on social media recently. 
A Hoops-related page called St. Anthony recently posted an image of Bellamy, calling him the 'fastest Celtic player of modern times'. The post also described the forward as a 'fantastic' player.
On reading this post about their former player, many Celtic fans were left raving. They hailed Bellamy for the impact he had in a limited amount of time at Parkhead.
Looking at thread IMO he Bellamy was faster than Agathe. Wish he stayed longer class player

— Barry (@celticfella1967) April 2, 2020
What a player. One of the most exciting I have seen in a Celtic jersey

— Ryan Coyle (@RyanSoulbhoy) April 2, 2020
One of my favourite players and yes even taking on that short spell

Shame Black Sunday deprived him of title medal…. Won The cup tho – only medal in career?

— D. Hollywoodthebhoys (@DHollywoodtheb1) April 2, 2020
Do you wish Celtic signed Bellamy permanently?
I really wanted that!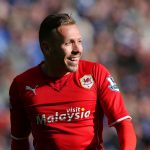 I'm glad we didn't sign him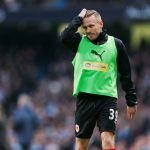 His Hat Trick at Tannadice was amazing, 3 top drawer finishes, ??????? and his goal at Ibrox, turned the big Greek Defender inside out, what a finish.

— Ian O'Neill (@bhoyoneill68) April 2, 2020
Spot on! Really enjoyed watching him play for us!

— Gary Bhoy (@Somerset_Tim) April 2, 2020
He'd have been the perfect successor to Henrik. Pity we couldn't afford him.

— Andrew noble (@Noble70Andrew) April 2, 2020
Bellamy had arrived at Celtic on loan from Newcastle United in the 2004-05 season. The spell had lasted only a few months, as he left the club at the end of the campaign after having arrived in the winter of 2005.
During his time at Parkhead, Bellamy had made 12 Premiership appearances. He had racked up an impressive tally of seven goals as well, before going back to the Magpies at the end of the season.
Bellamy went onto play for Liverpool, Manchester City, Cardiff City, West Ham and Blackburn.
What do we think?
Bellamy's numbers at Parkhead show that he left behind an impact despite being there for a few months. The comments of the Celtic fans show that they do love him and some even regret not potentially signing him permanently.