This week Sunderland fans took time to remember Peter Reid's time in charge of the club. The manager took control of the club around this time back in 1995. Fans were reminded of the Englishman's appointment when one fan account shared highlights from his time in charge.
Would you like to see Reid come out of retirement and manage Sunderland?
Yes - we need a change No - in Parky we trust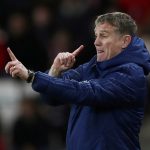 Many fans responded to the tweet, admitting that Reid's time in charge of the club represented one of their most enjoyable periods watching the Black Cats. To them, Reid's era holds a special place in their hearts. Here are a few of the fans' responses below.
Best times in my 40 years of supporting the lads, turned a bit sour in the end but good times massively outweigh the bad

— john bell (@pootzwar) March 31, 2020
Oh for those days back again

— colin (@cd756inch) March 31, 2020
— Jeffrey Potts (@jeffpotts1) March 31, 2020
The good old days

— Tim Birch (@TimBirch13) March 31, 2020
… and so began the greatest era of football the region had known for decades.

— Anthony Gair (@RoGairReport) March 31, 2020
Fantastic times. I only wish the younger generation could experience what being a Sunderland fan was like back then. Wondering how many goals we would score, not if we would score! Watching one of the worlds best strikers.Seeing ability, passion and work rate all together!

— simon (@SimonReed11) March 31, 2020
What do we think?
Reid took over the Black Cats in 1995, staying until 2002. During his stay with Sunderland, the Englishman managed 173 games, achieving 1.22 points per game on average. His time at Sunderland is by far the longest he ever spent with a club.
Judging by his impressive statistics as the team's manager, we aren't surprised these Black Cat fans enjoyed his leadership. The 63-year-old is currently out of work, seemingly enjoying retirement having left Bolton back in 2016.