This week Sunderland fans reacted to a post shared by Lynden Gooch. The American retweeted footage originally shared by @SkyBetLeagueOne that showed Gooch scoring a screamer of a goal.
Do Sunderland need to keep ahold of Lynden Gooch?
Yes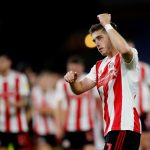 No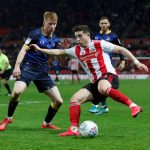 In his tweet, the Sunderland player admitted that he was missing his football and was eager to get back on the field, but did plead with fans to stay home. Judging by the fans' responses to his tweet, they are eager to get back out to the Stadium of Light to cheer on their side as well. One fan does admit that he hopes Gooch continues to practice during this time off, clearly hoping that the 24-year-old doesn't lose his touch.
Goooooch ???????

— Oluwaseun Bamgboye (@bamgboyeolu) March 29, 2020
— ChrisJones (@JonesSAFC) March 29, 2020
Wooooo pic.twitter.com/Xl7ZJK6eYI

— Colin Woodruff (@laszlowoodbine) March 29, 2020
What a season he was having as well

— Adrian Magson (@AdrianMagson) March 29, 2020
Great goal that Lynden boy

— Gordon Armstrong (@GordonIanArmst1) March 29, 2020
We'll stay at home if you get out practising your keepy uppys in your garden n that

— Kieren Jennings (@KierenJennings) March 29, 2020
What do we think?
In 30 league games this season Gooch has 10 goals and two assists. He is the ninth-best performing player in the league for Sunderland this season, earning an average rating of 6.75/10 according to WhoScored.
We aren't surprised that the fans are eager to see the American step back out on the field. He clearly has a lot to offer the side.