There is no English football for Sunderland fans to watch this week. This, of course, is because of the current postponement of all professional English football.
However, this has caused many fans to look back on past seasons to get their fix of Sunderland related content. One of the seasons looked back on was the Division One 1998/99 season when Peter Reid's side recorded an astonishing 105 points to earn promotion.
When one Sunderland fan account referenced their favourite moments from the season, many fans reminisced about the team. It is clear that they would welcome back players like Kevin Phillips and Niall Quinn back into their current squad. Phillips scored 23 goals in 26 games that season, while Quinn scored 18 in 36.
Here is what some fans had to see.
What a squad ??

— James (@JRGreen99) March 17, 2020
Team was outstanding that year so focused on there goal…Promotion!!

— KTF (@SafcLamb60) March 17, 2020
Good times…

— Paul Jones (@jonesyftm88) March 17, 2020
Everyone of them players I would want in any of my Sunderland teams at various points of supporting the lads. Had the lot , skill, ability, tactical, effort, tenacity , desire and passion. What a group we had under Reidy for 5 or 6 seasons.

— StuT (@tenchylad) March 17, 2020
Uhhhh, that PICTURE. And that STRIP. A lot of feelings.

— Kate Holmes (@MsKateHolmes) March 17, 2020
I wish they'd put this season on DVD or Blu Ray, I used to own it on VHS but no one uses that anymore haha

— John Jacob Jingleheimer Schmidt (@LeePearson1307) March 17, 2020
Would the 1998/99 SAFC team have won automatic promotion this season?
Yes - they would have wiped the floor with this league No - most of them are long retired by this point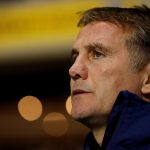 What do we think?
With Sunderland trying to make the climb out of League One right now, the Black Cat supporters could find inspiration from Reid's team. Sunderland are currently positioned just outside of a playoff spot at the moment.
However, with Stewart Donald setting a target of 100 points for the season, their 59 point tally seems far from acceptable.