Yesterday was yet another slip-up in Steven Gerrard's attempt to challenge for the Scottish Premiership. What on paper may have appeared to be an easy game for the Gers ended in a 1-0 loss against Hamilton Academical. Before the match, Hamilton were bottom of the league, however, three points have taken them above Hearts.
The loss is especially hard to take considering their Old Firm rivals showed a small bit of vulnerability during their match against Livingston last night. The Hoops dropped two points during the match, clawing back a draw in injury time.
But the Rangers loss could have been avoided if not for a catastrophic defensive mix-up. On Twitter, @MBS1872 shared footage of Hamilton's goal, questioning what Connor Goldson and James Tavernier were doing during the calamity. The footage shows them staring at each other trying to clear the ball as Hamilton's David Moyo capitalises to score.
Many fans responded by slating the pair.
Couldn't make a defender out the two of them. Then tav goes off and has the cheek to give goldson the armband

— Robert (@robbro01) March 4, 2020
It's schoolboy stuff

— Doctor P (@doctorp1984) March 5, 2020
Drop them both! Useless and unacceptable.

— ?????? ???????? (@_FemaleMechanic) March 5, 2020
— Lee McFarland (@Lee_McFarland_) March 5, 2020
You would just put your foot through that and clear your lines. Absolutely criminal that he decided to take a touch with an attacker right on him.

— Gaz (@GazScott1988) March 4, 2020
What on earth was Goldson thinking about, absolutely astonishing

— albert tatlock (@jamrangers) March 5, 2020
Absolutely horrific mate.

Roll on Laudrup and Ferguson. At least we'll be able to reminisce with Goosebumps and feel all warm and fuzzy inside at how great a childhood we had watching them

— Deano (@Ladyzman9685) March 4, 2020
Both culpable. Tav initially let's the ball go, whilst he was closest, possibly thinking Goldson was going to launch it. Then Goldson attempts a stupid drag back in front of goal. Either should have cleared it.
Simply not good enough.

— The Brigadier (@Unionist_Ger) March 4, 2020
Will Goldson and Tavernier be part of a title winning Rangers squad?
Yes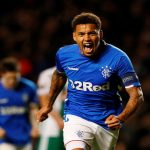 No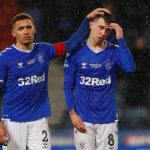 What do we think?
Goldson and Tavernier certainly looked poor during this clip. It certainly doesn't show their best qualities.
However, with Goldson and Tavernier being some of Gerrard's most capped players this season, one must question if it is about time the manager looks to place his trust in others.