A lot of Leeds United fans have responded to a tweet talking about Mark Viduka.
The tweet from @Mr_Tasker asks other Leeds fans if when Viduka played for them, he was called lazy by some Whites fans.
This drew a great response from these Leeds fans who confirmed @Mr_Tasker's suspicions.
Viduka used to get stick from a section of our fans for being lazy. I'm not inventing that, am I? That did happen?

— Tasker (@Mr_Tasker) March 23, 2020
Got a lot of stick, was a bit streaky though. Could go weeks without scoring then suddenly be the best striker in the league

— Marching On Together (@motforum) March 23, 2020
It did. And tbf he was quite happy to admit that he didn't always give 100% when he was at Celtic. He said he often didn't need to, so he just did what he felt was necessary.

— Stuart Grant (@McClumsy84) March 23, 2020
He got plenty of stick,he wasn't lazy imo he just had a laid back style,class act.

— mb (@went57) March 24, 2020
He was a bit on the lazy side but then out of nowhere he would produce a piece of pure magic he got no criticism from me

— George Swanston (@GeorgeSwanston1) March 23, 2020
One of the best strikers we ever had, and his scoring record speaks for itself. But he didn't sprint 30 yards to slide tackle a defender in the 89th minute so yeah… lazy ?

— Ben (@Ben_Paul) March 24, 2020
That happened A LOT. Used to drive me nuts. One of the best strikers I've seen for Leeds.

— James Varley (@jvarleyqatar) March 24, 2020
Some of our Muppets would criticise Messi

— ss?? (@jon_lufc_) March 23, 2020
What do we think?
Viduka scored 68 goals for the Whites in 159 appearances; however, he did go on the odd goal drought.
Do you think Viduka was lazy?
Yes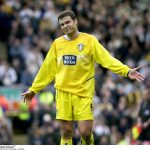 No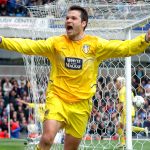 One in the 2000/01 season and then the 2001/02 season particularly stand out as poor as he went 11 and nine league games without a goal. (Games he was available for)
However, we think that to call him lazy is a bit daft considering the Australian, according to planetfootball, had a laid-back style that made him look lazy.
We feel though, that his goal record speaks for itself and therefore, for some Leeds fans to have called him lazy, to us, seems wrong.