A lot of Leeds United fans have responded to a tweet from Graham Smyth – that includes a piece relaying quotes made by Stoke City's chief executive.
Tony Scholes, speaking to the Stoke Sentinel, believes that clubs like Leeds United are not fairly rewarded for the number of times they appear on TV.
Scholes claims that Leeds only get about £3m a year in TV money while Norwich City will get £100m.
The Stoke man then goes on to claim that clubs are 'now desperate to attack other clubs' because of the financial disparity between the Premier League and the Championship.
Do you agree with what Scholes said?
Yes
No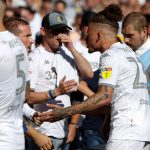 This has drawn a reaction from these Leeds fans – with some in agreement with Scholes.
'Some clubs are desperate to attack other clubs.'

Stoke City chief exec on how P&S rules have made Championship more dog-eat-dog and how Leeds United's TV money compares with Premier League strugglers.https://t.co/1VVrdAo1HJ#lufc

— Graham Smyth (@GrahamSmyth) March 21, 2020
The gulf between the championship and premiership is obscene…how can Bournemouth b a richer club than Leeds United even though united can command TV audience figures ten times the size of Bournemouth but b paid peanuts ??????

— Shabaz Ahmed (@ShabazA70010194) March 21, 2020
TV money massively unfair. Huge club with huge following effectively stripped of cash generated and thereby held back very effectively. Leeds turned into a farmer club for likes of Norwich and Bournemouth is ridiculous.

— Lars (@LarsUllern86) March 21, 2020
True though – and they didn't invent parachute payments, and do seem to have managed themselves to sustainabilty via it. They didn't sign the SpyGate letter either – so plenty evidence to suggest they handle themselves better than others.

— Matt Crayton (@MattCray) March 21, 2020
Other Whites supporters, though, feel that he is just whinging for no reason.
Huh, funny how he's bringing this up as the parachute payments will be drying up.

— David Martin (@bhercules) March 21, 2020
Wasn't a problem when they were comfortable in the PL of course

— Steve Dunn (@stevedunn_) March 21, 2020
They bought tom ince for 11m. Say no more.

— scott bates (@bates_scott88) March 21, 2020
? ?

— PJ (@peterjs0007) March 21, 2020
What do we think?
It does seem ridiculous that a club like Leeds who regularly boast attendances of 35,000+ receive a lot less money from the TV companies than the likes of Bournemouth – who achieve attendances of just over 10,000 and last season had just ten games shown live on TV.
That is why, to us, it is so important that the Whites achieve promotion.