After purchasing the player from Liverpool on a free transfer in 2016, 22-year-old Jordan Rossiter has been told he has no future at Rangers, according to Football Insider.
Since signing, Rossiter has played just 16 games for the Gers, spending the rest of his time out on loan with Bury Town and Fleetwood Town. At Bury, he played in just 17 games and has only played 19 games for Fleetwood.
But is a player like Rossiter really worth offloading?
TIF Tactics – Is Rossiter a good player?
In order to find out why Rossiter could be valuable to Rangers, let's delve into his statistics from the 2019/20 season up until this point. As a defensive midfielder, it is important for Rossiter to have a good balance in his defensive and passing abilities.
At first glance, the Englishman's passing stats are promising. He averages 37.63 passes per 90 minutes this season, boasting a 79.8% passing accuracy. Of these passes, he averages 11.89 forward passes and 5.59 passes to the final third.
Defensively, the player is relatively solid as well. He competes in 9.04 defensive duels per 90 minutes on average, with a 64.8% success rate. He also makes 9.37 recoveries and completes 1.42 clearances on average per 90 minutes as well.
Overall, Rossiter, who is valued at £405k (as per Transfermarkt), looks like a player who excels in the role he is asked to do.
So, why are Rangers offloading him?
Would you keep Jordan Rossiter at Rangers?
Yes No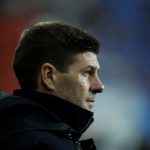 TIF Tactics – Why are Rangers are offloading Rossiter?
Ultimately, we believe a player like Rossiter would be unneeded at Rangers right now. The Gers average 60.87% of the possession in all competitions this season. Their opponents also struggle to break the Gers down, with them conceding just 0.66 goals per game on average.
Steven Gerrard isn't in need of a defensive midfielder who can build out from the back. Instead, there is an argument that he needs creative midfielders who can progress the ball past defensive low blocks with accurate passes or skilful dribbles.
Sadly, for Rossiter, he is quite simply a player who Gerrard has no use for.
(all data and stats from Wyscout.com, accurate at the time of writing)