Supporters of West Ham United were left furious after an answer from Mark Noble during a Twitter question and answer session.
On Wednesday, the club's captain took over the West Ham Twitter account and when asked for the top three youngsters in the world, he replied 'Mbappe, Alphonso Davies, Haaland' (per West Ham), which some felt left an obvious contender out.
Mbappe
Alphonso Davis
Haaland https://t.co/lMP3FjGvAh

— West Ham United (@WestHam) March 25, 2020
WHERE IS RICE

— Jack Shields (@JackShieldsy) March 25, 2020
There's also this chap, Declan Rice?you might've heard of him ?

— Joe Greenleaf (@JoeGreenleaf5) March 25, 2020
Declan rice

— Matt (@mattwoodywhu) March 25, 2020
Should Mark Noble have included Declan Rice in his top three youngsters in the world?
Yes, he should have
No, he shouldn't have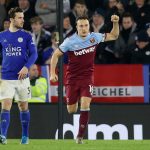 In the Premier League so far this season, Declan Rice has been the fourth-best performer for the Hammers with a relatively impressive 6.95/10 average rating (per WhoScored).
The midfielder has the second-highest passing success per league game for West Ham with 86.2% and the greatest number of interceptions with 2.1 an outing (per WhoScored), which had fans demanding he be included in the top three alongside another of the Irons' youngsters.
Rice*

— Hammer Español???? (@West_HamEsp) March 26, 2020
Ok, right. They're posting on behalf of Noble. Why the hell, then, isn't Noble answering these types of questions with our academy fellas like a captain should?

— Bruno Freitas (@bbfreitas) March 25, 2020
It's spelled Holland ??

— Jack Bland (@jackadactyl6) March 26, 2020
What do we think?
As can be judged from the responses, it is clear to see that the London Stadium faithful highly rate their 21-year-old midfielder.
Whether the supporters made their comments tongue in cheek or if they were being honest it is not totally clear, either way, having only had a 6.95/10 average in the Premier League likely does not qualify the Englishman for top three youngsters in the world.