Tottenham Hotspur fans reacted to footage of Heung-min Son scoring a brilliant solo goal against Chelsea.
@thespursweb shared the clip, which was originally shared by Tottenham. Along with the clip, the fan account questioned how Son could possibly be compared to players like Marcus Rashford. They insist that he is a much better player than Manchester United's youngster.
This post gathered many opinions from fans who laugh at the comparison. Others just admit they miss watching the player on the field. Another fan suggested that the solo goal against Chelsea was reminiscent of one Gareth Bale might have scored.
I miss Sonny

— Tony Bohanna (@BohannaTony) March 22, 2020
UNBELIEVABLE PLAYER!!!

— Massimiliano Burani (@mackeslukke) March 22, 2020
— P Glover (@Glover151) March 22, 2020
Incredible goal, reminds me of Bale.

— Emlyn Miles (@EmlynMiles1) March 22, 2020
However, some fans suggest that it is difficult to compare the two players. They don't play in the same position and share different roles at their respective clubs.
In Manchester, Rashford may just be a good player, but in the Spurs, Sonny is an irreplaceable player. I'm afraid he'll leave us.

— Declan (@D_muller9) March 22, 2020
They don't even play in the same position, so can't be compared to one another x

— Andrea Blackwell (@andreaspur) March 23, 2020
Who will be the better player?
Heung-min Son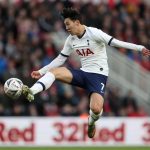 Marcus Rashford What do we think?
Son has played in 21 league games for Spurs this season, scoring nine and assisting eight. It is evident that the player is a huge asset to Jose Mourinho and one that fans will want to hold onto for as long as possible.