Spurs fans have been reacting to footage of fourth official Andrew Madley rolling his eyes at Jose Mourinho during the 1-1 draw with Burnley last weekend. 
The footage, which was originally posted by Sky Sports Football, before being shared with Spurs fans via LastWordonSpurs, shows the Portuguese manager in discussion with Madley, who then rolls his eyes as the 57-year-old looks to make a complaint. Mourinho witnessed his side end their losing streak to earn a point at Turf Moor, with Dele Alli's second-half penalty cancelling out Chris Wood's early opener.
The result leaves Spurs in eighth position in the Premier League, seven points behind fourth-placed Chelsea, suggesting that they will need an almighty turnaround if they are to earn a Champions League spot for next season.
Have you had enough of Mourinho?
Yes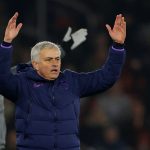 No Reaction from Spurs fans to the footage of Madley and Mourinho can be seen in the tweets below.
Blaming everyone but himself…

— Mark Siggers (@Siggs72) March 7, 2020
I've had that look lately myself…
To bad Mourinho is only ready to take risks when we are losing anfmd have nothing to lose… Audere est facere.
To dare is to do…

— Øivind Lundberg (@OeivindLundberg) March 7, 2020
Haven't we all

— John Tracey (@Johnthfc) March 7, 2020
He's not alone.

— Joe Lewis' Yacht Collection (@bankruptspurs) March 7, 2020
That's how I feel too.

— Marc (@sportfanmarc) March 7, 2020
That referee was rolling his eyes – very inappropriate.

— Kiril K. (@kkostadi) March 9, 2020
I hate people doing that. So resepectful. Ban him for 50 games. Disgraceful. 🙂

— David Williams (@DavidWilliamsDK) March 7, 2020
The majority of these Spurs fans also seem to have had enough of Mourinho – though some were not happy with the fourth official's behaviour, either.
What do we think?
Spurs are now without a win in five games and if they fail to turn the tie around in Leipzig on Tuesday then their season will look to be all but over.