Spurs fans have been discussing some of Tanguy Ndombele's stats during his first-half display against Burnley at the weekend. 
The 23-year-old was subbed at half-time during Saturday's game at Turf Moor and considering some of his running statistics, which were posted on Twitter by The Spurs Web, it is easy to see why. The former Lyon man completed zero sprints in the first 45 minutes, which was less than goalkeeper Hugo Lloris, however, the midfielder still completed the most passes and had the second-best passing accuracy in the Spurs side.
It is easy to see where Ndombele's problem lies therefore, as his passing ability and talent on the ball is evident, whilst his fitness continues to prove a problem for Jose Mourinho. The Portuguese manager has subsequently criticised the Frenchman, saying: "A player with his potential has to give us more than he is giving us, especially when you see how Lucas, Lo Celso and those players are playing. I was expecting more in the first half from him." per BBC.
Do you still have faith that Ndombele will make it in the Premier League?
Yes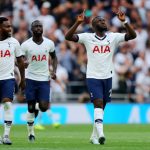 No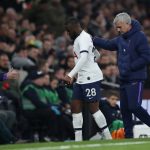 Reaction from Spurs fans to Ndombele's stats against Burnley can be seen in the tweets below.
Less sprints than Lloris

— CH (@THFCch) March 9, 2020
He was walking around like a snail, he only got them touches when getting passed to from less than 10 yards.

— Gin (@Lamela11i) March 9, 2020
Absolute state of it

— James (@JWL82) March 9, 2020
When you GK sprints more than your midfielder

— Wayne (@WayneMizen) March 10, 2020
Passing stats are decent considering he's standing still

— Simon (@cruelm3) March 9, 2020
No sprints? Yeah, Son's sprinting looks difficult enough to replicate. But, zero, come on, Ndombele? £200K per week & you don't even sprint once? #THFC pic.twitter.com/gtfnS7Xjlp

— Jon S. (@spaekman) March 9, 2020
These Spurs fans are clearly not impressed by Ndombele's lack of effort in the game against Burnley and seem to agree with Mourinho that much improvement is needed.
What do we think?
It is frankly embarrassing for a midfield player to complete fewer sprints in 45 minutes of Premier League football than his own goalkeeper and if the £58.5 million-rated man doesn't buck his ideas up quickly then it would perhaps not be a surprise to see Mourinho try and sell him in the summer.