Spurs fans have been discussing some footage of Tanguy Ndombele taken from his time at Lyon. 
The footage, which was originally posted by Twitter user BN, before being shared with Spurs fans via The Spurs Web, shows the French midfielder's best moments from Lyon's match against Barcelona at the Nou Camp last year. Despite losing the game 5-1, the Frenchman impressed; completing three dribbles, four successful tackles and a 91% pass accuracy per WhoScored.
So far this season, Ndombele has started just 12 games in the Premier League, having joined the North London club for a club-record fee during the summer. Fitness issues have proved to be a regular problem for the 23-year-old midfielder, with Jose Mourinho recently criticising the French international after his disappointing performance against Burnley.
Do you think Ndombele could impress next season?
Yes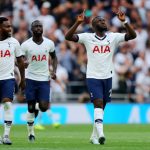 No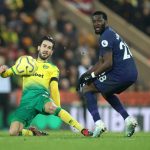 Reaction from Spurs fans to the footage of Ndombele can be seen in the tweets below.
This guy needs to fix up man
Thought he was the perfect Jose player rather than Lo Celso
Strength, good passing, doesn't lose the ball, etc
But its turned out to be quite the opposite

— shweb (@Shoaib17_A) March 15, 2020
People don't get it. It's nothing to do with his fitness, it's everything to do with his attitude. That's what has led his fitness to get to where it is. A lack of dedication, commitment and desire. All the talent but he's just another Adel Taraabt on evidence so far.

— Alex Ievoli (@AlexIevs) March 15, 2020
He is clearly unhappy, finding it hard to adapt etc… his game is a million miles off that. Worst still he could be a big game player as he turned it on for the cameras in all the big games in last years UCL last season… was he arsed in all the meaningless Ligue 1 games?

— Edward Desbois (@edesbois) March 16, 2020
Genius on the ball. So was Hoddle. Nobody expected him to track back or run around putting in tackles. Play to everyone's strengths. Skipp, Sissoko, Winks are the water carriers. Yes, he must work harder off the ball, but his gifts are uniquely destructive. Give him the ball.

— SimonTHFC (@SMTHFC1) March 15, 2020
He is our most electrifying player when he is on the game – his ability to get past a man is reminiscent of demeble and unlike Dembele he has a pass and shot on him. Who remembers Modric's first season?

— OriginRiddim (@OriginRiddim) March 15, 2020
Nothing to do with fitness, personally think he regrets coming to England

— CM (@CharalambousMa4) March 15, 2020
The kid is a great footballer it hurts to see how Jose is trying everything in his power to destroy him all the kid needs is time on the field

— barry whyte (@comgreen) March 16, 2020
These Spurs fans seem to agree that Ndombele clearly has all the talent but seriously needs to sort out his current issues if he's going to make it in the Premier League.
What do we think?
Ndombele, who is valued at £58.5 million (as per Transfermarkt), needs to work hard to get up to full fitness and perhaps then we will begin to see more of the player that impressed so much with Lyon last season.